I was very excited about the Designer Challenge.  It pushed me to create AND follow through which can be a big challenge as a designer at times.  I often find myself mid pattern and my mind is already wandering on to my next designs.
This pattern is a pattern of love for me, with back to school for the 3 older kids I didn't have the time to plan the 1st birthday I wanted so I decided I would make sure to create a smashing dress instead.  I have to say I think I succeeded!
And it even looked something like the sketch I drew which was another first for me.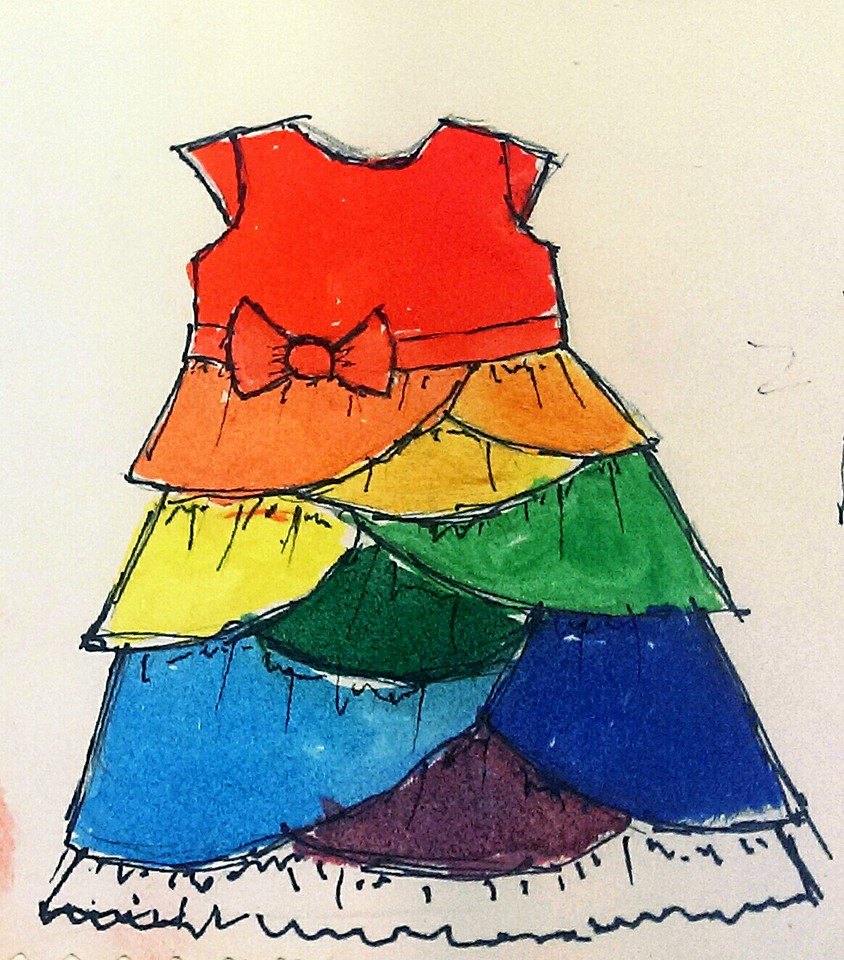 My next big challenge was to get it drafted graded & into testing.  This is my first woven pattern & due to the high demand for tween size patterns that are still age appropriate for 8 & 10 year olds I decided to offer it in all 18 girls sizes.
In typical Kymy fashion I got busy & pre-testing took longer then I expected and I wanted to give up but my fellow designers and testers told me not to give up.  I am amazed at the level of support they share with each other.
1 week since my meltdown and I am excited to announce that Kenzie's Party Dress & Skirt is going to be released TODAY!  Check in the shop after 3PM today to purchase your copy.
This timeless dress was inspired by my baby girl Kenzie's 1st birthday.  With classic lines and a variety of options, this pattern can be used over & over for years to come.  The back of the empire waist bodice features a beautiful scooped line and the signature skirt is full and eye catching.
With the options included, there are endless design possibilities and anyone can create an heirloom quality garment.  Included are 2 sleeve & 2 skirt options for a dress, as well as directions for creating 2 different high waisted skirts in a total 9 sizes per pattern.  The simple skirt offers clean lines simple yet classic lines, paired with the full sash that can be tied in beautiful bows and you really can't go wrong.
Each .pdf pattern includes 24 pages of directions full of pictures & some cutting charts & an inspiration gallery as well as 5 full size, nested printable pattern pieces and a design planner (9-12 pages depending on the size).  I won't lie this sucker is a fabric hog!  But it worth every inch.
It is an Intermediate level pattern though some of the advanced beginner testers were comfortable sewing it.  Most of the techniques in this pattern are relatively basic and covered in the photos.  A few of the ones mentioned & not covered in much detail are hemming, clipping curves, topstitching, finishing seams, button holes & applying double fold bias tape though I do include some clickable links.
One more complicated technique that IS covered is a continuous bound placket otherwise known as a dress placket.  If there are techniques you would like more information on you may visit my blog, www.everythingyourmamamade.com
There are 3 purchase options that include either 9 or all 18 sizes.
Infant & Toddlers sizes Newborn-4T ($8.95)
Girls & Tweens sizes 5-18 ($8.95)
Bundle Pack sizes Newborn – 18 Tween ($13.95, over 20% savings)
AND you have a chance to win 1 free single pattern from my shop over on Pattern Revolution!  PLUS at the end of the challenge someone has a chance to win the ENTIRE COLLECTION of Fall 2013 'Designers Challenge' .pdf patterns!!!  Just enter using the rafflecopter tool on their page after you check out some of these amazing tester photos.
Don't forget about the other 25 designers participating in this event, make sure to check their shops out and check back to see what is released next.