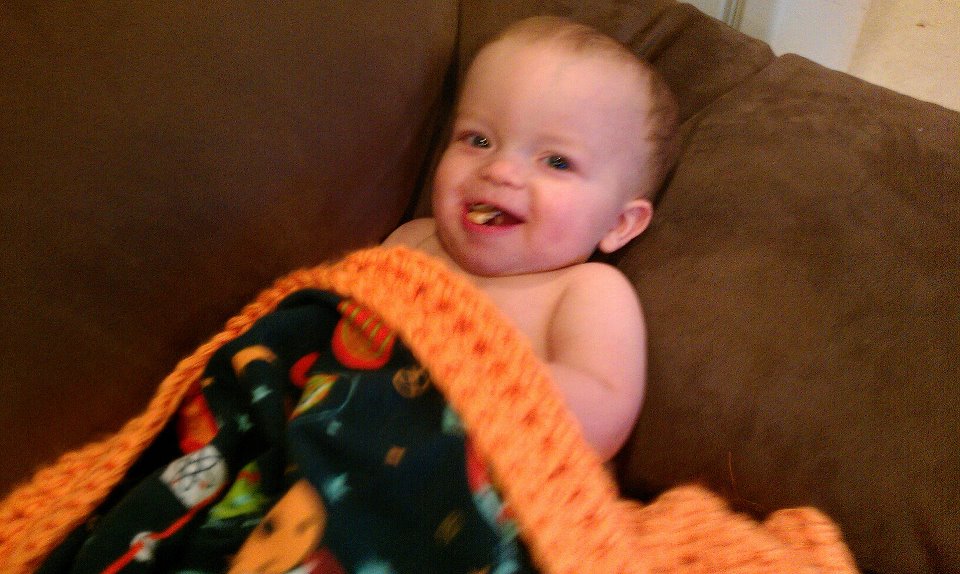 I have to say Pinterest is a very inspiring & useful tool for the creative mind… it is also like crack & very addictive!  While I have thousands of pins on my boards I have been trying to make at least 1 project a month off of them.  This project was actually completed in a few steps over a month while I was sick with strep, but it is done & well loved!  My inspiration was some fabric backed baby blankets I had seen on there.  I love crocheted blankets… they are soft, cuddly & who doesn't enjoy wrapping their fingers in them?  The one downside is if they have a lot of holes they can be drafty… this fixes that AND is super cute as well.  You can also us this fabric backing method on a already finished crochet or knit blanket that you have laying around!
I will say this is NOT meant for babies!   The yarn eater blanket is heavy… a great option as a sensory or weighted blanket but I would NOT let a child under 2 sleep with one because of the increased risk of SIDS.  That being said it is a great stroller & car seat blanket or lap blanket for adults.  You can make them bigger you will just need more yarn & wider fabric.
Warning this is the first time I have written out a crochet pattern & honestly I don't use them often, so I hope this makes sense!  It's really simple & I think you will get the idea.  Sorry for the few & not so great pictures, I have been sick & I wasn't paying attention until I had already skipped steps.
SUPPLIES:
Size P 11.50mm Crochet Hook
9 6oz Skeins of Worsted Weight (4) Yarn.  I LOVE Caron Simply Soft… it is affordable, soft & durable.  You can do all one color or up to 3 colors.
1 1/2 yards 44″+ wide fabric (I chose flannel)
Needle (needs a big enough eye to thread the yarn through but sharp enough point to push through the fabric.)
Coordinating thread
Scissors
Extra Long Stick Pins
CROCHET:
ROW 1: Using 3 strands of yarn at once (see picture above) ch 77.  In the 3rd ch from the end hdc… 1 hdc in all remaining ch. (75hdc) ch 2 & turn.
ROW 2-58: hdc in each hdc all the way across (75hdc) ch 2, turn & repeat.
EDGING: sc around all 4 edges of the blanket to create a nice finished edge.
TO FINISH Tie off ends & weave in tails!
You may do more or less rows depending on how big you want it!  I call it the yarn eater because with the big hook & 3 strands at once it goes quickly for it's size but it goes through a LOT of yarn.  As written I went through 6 full skeins of yarn & about 1/3 of the last 3 skeins.  If you want to use more then one color you can use 2 or 3 different colors at once, just make sure you have enough in the sets of 3.  This blanket alone is nice, simple & comfy!
FABRIC BACKING:
Carefully with out stretching it lay out you yarn eater blanket over the fabric you choose.  Cute the fabric about 1/4″ bigger then the blanket all around.  Now lay your blanket down on a big flat surface… then lay the fabric down on top with the WRONG SIDE facing the blanket.
Carefully using the extra long stick pins to baste the 2 pieces together then use left over yarn & the needle to tie them together.  This video is a good example of the general idea except there is no batting in this blanket & I used the stick pins instead of safety pins!   How to Tie a Quilt
This next part is a little tricky but pretty easy if you take it slow.  Working your way around the blanket carefully fold the fabric edge UNDER about 1 1/4″ and pin down.  This will leave you with a nice finished edge & about 1″ of the crochet blanket showing on the front :). Don't be afraid to use LOTS Of pins it will make sewing it later easier.  Try not to stretch the crochet blanket under neath as it can cause it to look a bit wonky later.  Stand up or step back frequently to make sure your folded under edge is even and straight.  You can try using a ruler but I prefer to eye it.
Time to sew it down!  Using thread colors in the bottom to match the crochet blanket & top thread to match the fabric sew 1/8″ or 1/4″  (I refer 1/8″ but that may be harder for some machines) from the folded edge of the fabric sew the fabric down on all 4 sides. This blanket is thick & not easy to maneuver so I recommend going slow.  Trim your threads & you are DONE!