Yesterday was a busy day!  The twins first day of preschool was actually on Tuesday but when we found out that it was Prince & Princess day I let them wear their made by mama princess gowns that I made for their 3rd b-day instead… I didn't get great pics on their 1st day of school, but they are TOTALLY them. Look at Baylie's attitude? I WILL be purchasing a shot gun when they get into high school!
That also meant I put off finishing the tunics that I had nearly finished a week before to match the back to school skirts I made them. So literally 10 minutes before we had to go out the door I was up cutting out the apple appliques for the tops with the girls watching closely… after I got it cut out one of the girls (Carlie I think) said 'it looks like a pocket!' and they both started jumping around yelling 'we get apple pockets'. I have to say, 3 year olds are pretty darn smart :). So instead of a boring applique we have an apple pocket! I love how they turned out minus the not having time to iron them because I literally got done, the tops on them & bows in their hair the minute we had to leave to be on time. They absolutely adore them though, & that makes it all worth it!
I made the tunic using the Miss Madeline Dress pattern from YCMT & just shortened it!
Again not great pictures, but you get the idea :), Carlie is on the left & Baylie is on the right!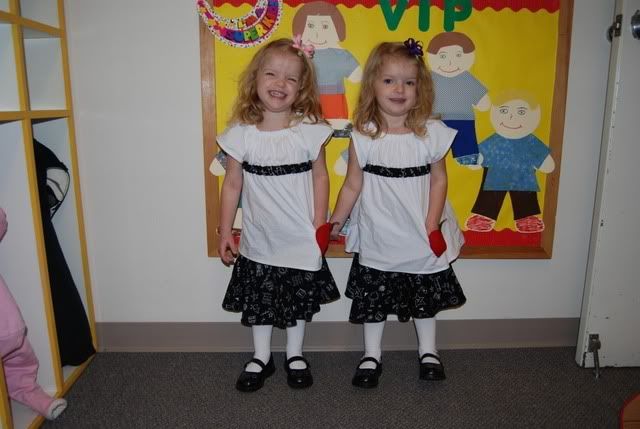 Baylie bug after school showing off the pocket…
And a close up 'action' shot…
Later that evening I almost managed to serger up 35 double sided cloth baby wipes for my sister too!