It has been so sunny the last few days that I have started getting excited about spring & summer!  So after making those 'Miss Madeline' from YouCanMakeThis for my nieces I decided to make them tunic length for the twins!
I had a cutting mishap at first because I forgot the fabric was directional, but I caught it in time luckily!  They went together fast & easy and turned out even cuter then I could imagine.
I struggled with what to do for bottoms, but decided some capri length leggings would match well & be handy to have for other tops & dresses too.  So I pulled out some black cotton/lycra I had (my favorite for leggings!) and a pattern I drafted a few years ago &  made these up.  I worked on both in pieces here & there but they went together really fast, I think I might have spent MAYBE an hour total on the 2 tunics & 20 minutes on both pairs of pants?  I love this combo & plan on making more :).
Cute, simple & practical!
Carlie was being cranky at first so here is just Baylie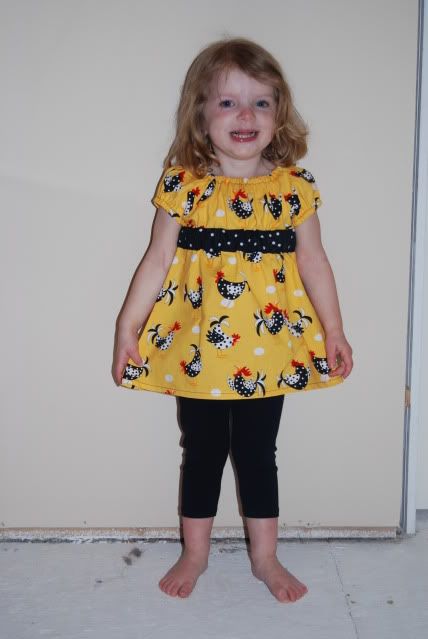 Then their little 'photoshoot' excuse the hair they had been wrestling & I couldn't find a brush!