Well on the 17th my niece Sami celebrated her 1st b-day!  Of course I put it off until the very last minute (well few hours) but the dress was easy to make & turned out super cute.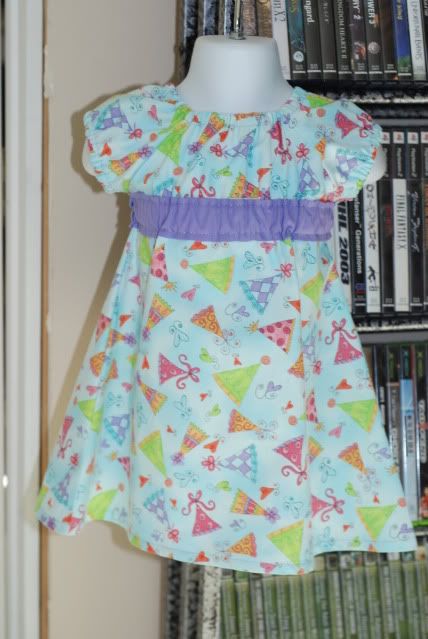 The pattern is the 'Miss Madeline' in sizes 6m-4 (also comes in 5-10) from YouCanMakeThis.  I made this dress in the smallest size, 6-12m.  I have to say that the sizing in the title is slightly miss leading because when I think 6m I think 3-6m & 6m, not 6-12m which fits more like 12m.  I'm not sure if it possibly runs big because the size 6-12m fits like 12m… but there is a size 1 too that is bigger, maybe more like 18m?  I will be making a size 4 soon so I will be able to share the fit on the larger sizes later.  I wish for the price it included a few more sizes.
Luckily my niece is wearing 6-12m/12m anyways!  The pattern went together pretty easy & rather fast.  I think I made the entire thing including cuting, ironing, sewing, elastic & all in less then 1 hour with an audience reminding me every 2 minutes that it is a pretty dress for baby Sami :).
2 things I noticed… the top neckline that you fold down 1/2″ wants to fold down more because of the way the pieces are cut.  It easily all folded down 3/4″ (it was not wanting to do 1/2″) & looked fine.  I also found the band for the base that you cut out was far to long.  It said to fold the ends under 1/2″, but I did more then 1″ on each end to get it to fit!  Next time I will actually do the whole band differently.
For the bottom of the dress I didn't do it straight across like the patterns suggests, I shaped it more so it would hang nice & even around the seams.  (only maybe 1/4″ difference, but I am just weird like that!)
That all being said It's a great pattern for people of all sewing levels!  I didn't  make it but it also includes a cute apron to make it an apron dress as well. Once you have made it there are lots of different mods to make a good variety of dresses & tops with it!
First off cousin Zander's card :).  Of all the cards she got this is the only one she looked at & it looked like she was trying SO hard to read it, SUPER cute!!!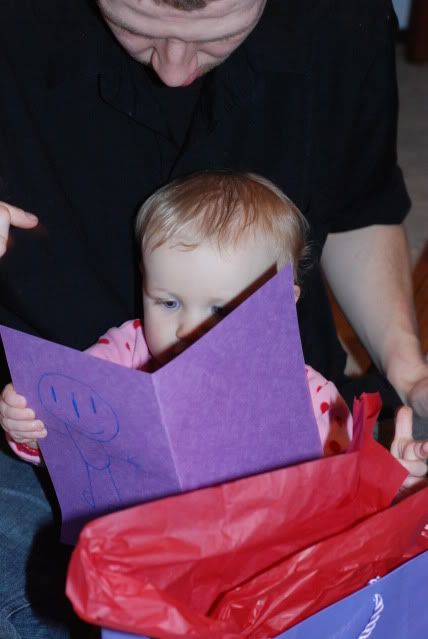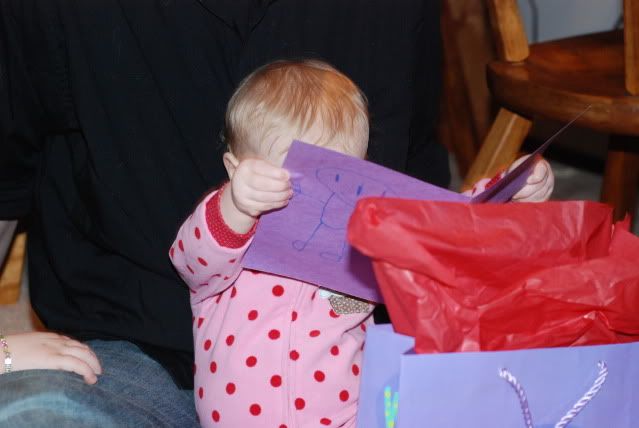 Then the dress…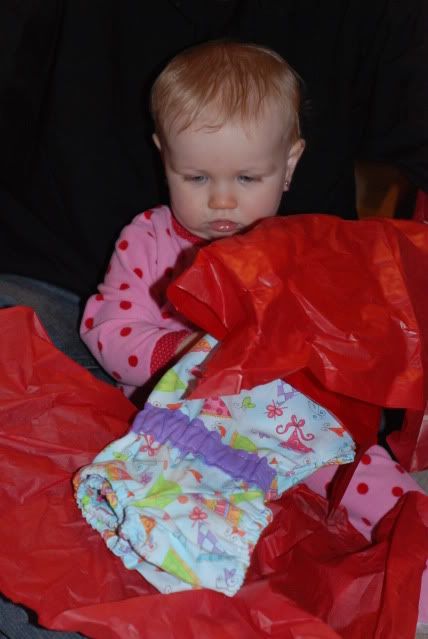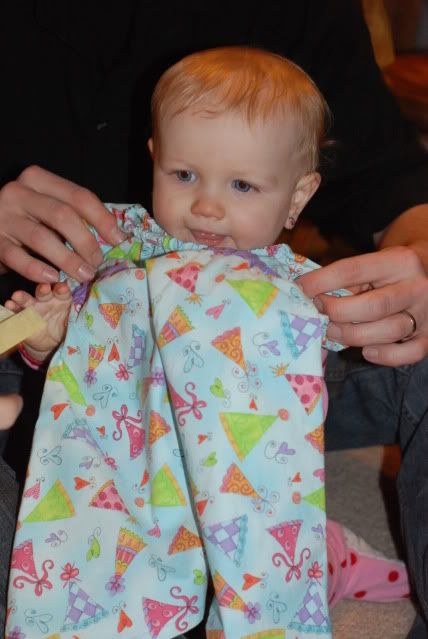 Finally trying on the dress! (notice one of the twins is patting her head in the 1st one, lol)