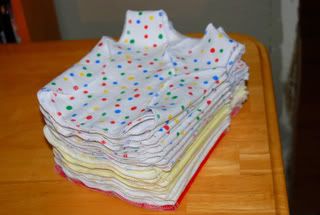 So this summer I blogged about my preemie NICU smocks and promised a free tutorial or pattern… well life got a little hectic after that!  So I have finely gotten all the text typed up & the pattern pieces scanned… I just can't find the pictures I had taken of the process so I need to make a few up & take quick pictures!  Anyways since I have pattern pieces I am putting everything in the file so it will end up being a .pdf file that can easily be printed off.
But I would LOVE to send out the Word file (.doc) to a few testers to sew up a few this week & maybe send me pictures?  Though flannel works best any soft 100% cotton can be used.  If you are interested in testing it please leave me a comment & let me know what you would like to test… the single layer I have pictured with a serged or bias tape edge, or a 2 layer serged, bias tape, or turned & top stitched edge.
I would LOVE to get this ready & posted on the site ASAP.  This pattern is free for personal & charity sewing only thank you.