Well I had heard about this for a long time, but I finally decided to give it a try…. & I have found my new love!!!! I HATE gathering… as much as one person possibly can. In all honesty that is what kept me from sewing for a very long time. Silly I know, but gathering & zippers are just no fun! I had learned how to gather with clear elastic… better then doing it by hand, but not super easy either unless it is just light gathering.
Anyways I have had a few people ask me about this so I figured I would make a photo tutorial! I have seen a few descriptions on the web, but never a photo tute. Its pretty simple & if you machine doesn't have a differential thats fine, you don't need it to gather. This process is a little bit of trial & error… every machine is different as well as fabric. Here are the basic instructions!
STEP 1: Loosen your pressure foot!
This allows for it to gather more. To do this simply locate the pressure foot adjuster directly above the pressure foot on your machine. Then using a coin or tool you want to loosen it… remember, lefty loosy, righty tighty! I normally do 3-5 turns, but every machine is different.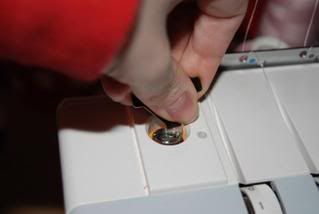 STEP 2: Adjust differential (if you machine has it) & Stitch Length
You want to turn it all the way up to the highest number. It is important you do this FIRST because when you set the stitch length it will adjust it on most machines.You could also take up a sewing course if you are a beginner.
Now that your differential is set you want to adjust your stitch length to the longest possible… this is 5 on most machines. This may change the differential, thats okay, just leave it alone.
Step 3: Adjusting Tension & Looper Threads…
I turn both my looper's up one number… they are normally set at 3, so I turn them up to 4. Then turn your needle thread tension up to 9 or the highest number available.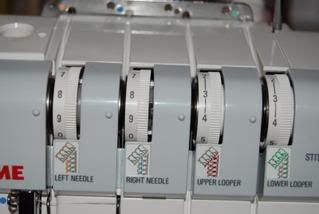 Step 4: SEW!
Put your fabric in the machine, put the presser foot down & sew! DON'T Pull or push the fabric, just let the serger pull it through, just keep it lined up straight. It should look something like this…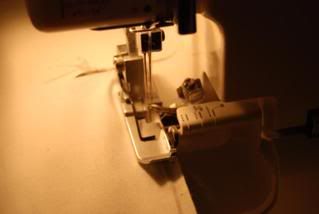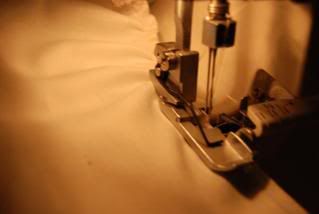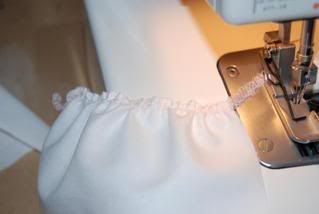 Step 5: Attach it to the rest of the project!
Make sure to first put ALL your settings back to where they were!!!! That can cause some headaches if not. Then go for it!
Remember this is trial & error, I ALWAYS test it first to see how it gathers, & to figure out how much I need. If you serged it & its to long you can simply gather it a little by hand or try running it through the machine a second time. If you gathered it TO much you can break a few strings & carefully ungather it a bit until it fits.
If your needle thread(s) break… turn your tension down by .5 & try again. some machines don't like it that high! The lower your tension # the less gathers.
Well I hope that this tutorial will help someone! This is a technique I don't think I can live with out!!!!
THIS CAN BE DONE ON SEWING MACHINES AS WELL! The gather is not as nice, but it is is very easy to adjust because you have the traditional pull strings. Just loosen the pressure foot, turn the tension all the way up & set the stitch length to the highest on your machine, you want a basting stitch. These are some quick pics I snapped. It will look better if you pin your gathered peice to the other peice first… I did not do this as I was in a hurry. The serger gather is a lot easier to handle then the sewing machine one… cause it is more secure, which is why I prefer it, it holds its gathers in place better until you get them attached. BUT if you don't have one this is the next best thing!