As a single mom of 3 under the age of 3 I was always looking to save money by figuring out how to make those neat pricey things that everyone has gotta have! I LOVE baby legs, but with 7.5 month old twin girls at $12-$15 a pair it adds up fast. So I came up with a tutorial to share on my blog for free with other moms just like me.
This is a quick inexpensive project that anyone can do! The socks in the tutorial below were $1 at Walmart, but Target & the dollar store are great places to get them as well. I have found them ranging from $1-$4 depending on length & where you get them.  These are harder to get between Easter & back to school shopping (late spring & summer months) because its just to warm so most people don't want to buy socks!!! Here is a picture of my identical twin girls (7 months at the time) in their matching ones of course. They are a GREAT alternative to tights, making diaper changes much easier. They are warmer & much more durable & can also double as arm warmers to give a warm layered look to your favorite t-shirts for girls & boys of all ages.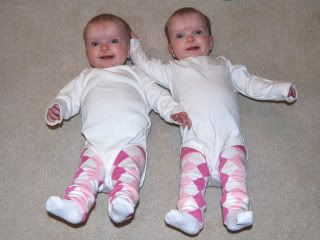 Supplies…
Womens tube/knee socks (6m-6yr) or Womens crew socks (0-18m) Girls knee socks also work GREAT.
Sewing machine or needle & thread
Scissors
Pins
STEP 1: First cut the socks into sections as pictured below. You will toss the heel & toe scraps, but keep the bottom of the foot. Note: for this tutorial I am working with crew socks, but the process is the same as with tube socks.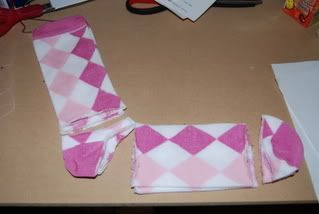 STEP 2: Take the section remaining from the foot & you want to fold it inside of itself as pictured below. You should have the nice side of the sock on the outside & inside with a fold on one end & both raw edges on the other.
STEP 3: Stick the long section of the sock inside your newly created tube. This would give you 3 raw edges on the side we are going to sew, the other side will have the folded edge & the finished edge that was originally the top of the sock. If you have a pattern such as stripes or argyle as I used you may try to get them to line up. Once you are happy with the positioning pin together. Make sure to pin just 3 layers, not all 6 or you won't have a hole to stick your little ones leg through when you are finished.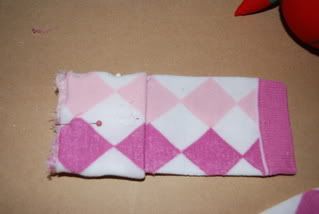 STEP 4: Time to Sew! Set the stitch length on your sewing machine to 4 (longest stitch), this will allow the most stretch. If the long straight stitch just doesn't stretch enough for you can also us a narrow zig zag stitch… width at 2 & length at 3. You want to stretch the pinned side over the arm of your sewing machine & sew a straight stitch all the way around. If you can't get it to stretch over then you can use what ever method you use to sew circles normally, or you can simply stitch it together with a needle & thread the old fashion way.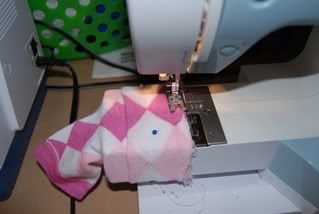 STEP 5 (OPTIONAL): Your finished seam should look similar to this. For a cleaner more professional look you can use pinking sheers, a zigzag stitch, or serge the seam for extra strength & to prevent unraveling.
Then simply fold the trim down (putting the seam inside) & TADA… a baby & toddler leg warmer simply make another one & test them out on the nearest happy child!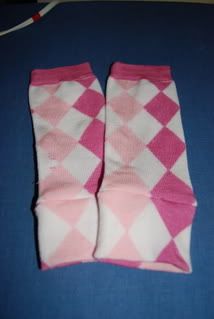 If you have any questions, found a mistake OR would like pictures of baby leg & arm warmers YOU made with my tutorial added to the gallery then please email me so I can continue to improve the tutorial.
Don't forget to check out all my other free tutorials including my lists of hundreds of free tutorials!