Way back in February, when I made this jellyfish shirt for my son, I also cut out a pair of 'Get Moving' Leggings for myself. They've been languishing in my "to sew" pile because I realized after cutting that I didn't have a shirt that would coordinate well with them. I was recently looking for a different fabric in my stash and ran across this purpley pink French terry that I had forgotten I owned. A lightbulb went off in my head as I realized it would match the pink in the jellyfish print!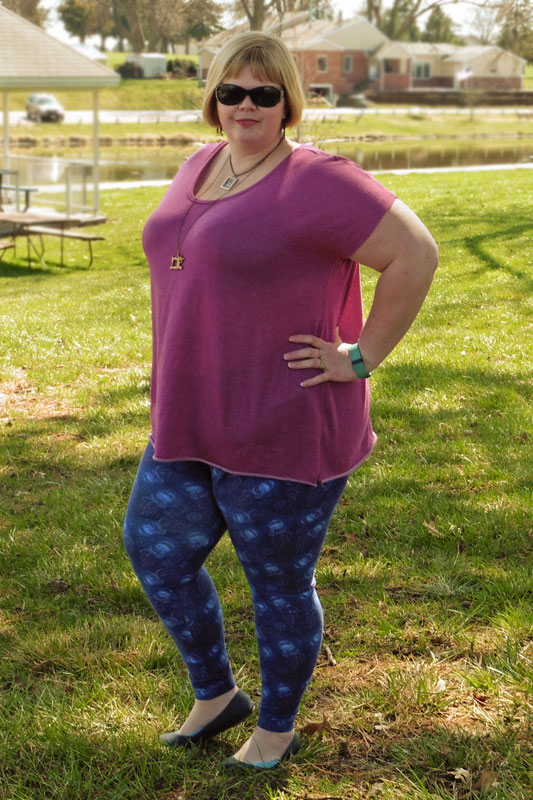 I quickly stitched together my leggings and then debated for a while which shirt pattern to use. I considered both Kymy's Dolman Top and the Asymmetrical Drape Top since I haven't made either in a while, but ultimately chose to make myself another Boxy Boyfriend Tee. My next decision was which neckline. I love that the Boxy Boyfriend pattern includes a higher crew neckline, lower scoop neckline, and a v-neckline. I chose to cut and sew the scoop neck this time.
I sewed up my shirt (which goes together super fast) and only had to finish the sleeves and bottom hem when I chose to make another design choice. It seems that recently in the fashion world there's been a trend to leave things "unfinished" for a cool ragged look. My laziness creativeness took hold and I decided to leave the sleeves and bottom edge unhemmed. I love how the bottom rolls up a bit to show the loops of the French terry, but am a little disappointed that the sleeves don't do the same. I'm pretty sure they don't roll because they are parallel to the fabric selvage and have no stretch. Oh well, live and learn.
I'm glad I stumbled upon this French terry in my stash … it'd been there so long that I don't even remember where I got it from! I'm thrilled to have found the perfect coordinate (without spending any more money) for the jellyfish legging so I could sew and wear them. They are so much fun and my son loves that he's got a matching shirt!
Have you made any "accidental" discoveries in your fabric stash? I'd love to hear about it here in the comments or in our EYMM Facebook group!
Happy Sewing!!  ~  Joelle