I was excited when I realized there was a day that needed filled as I was setting up the Capsule Skirt Blog Tour because that meant that I finally had a good reason to make time to sew myself a new Women's Capsule Skirt! While I was perusing my stash, my girls came in and decided they needed new skirts, too, so one skirt quickly became three. **Note: Read all the way to the bottom for the coupon code!**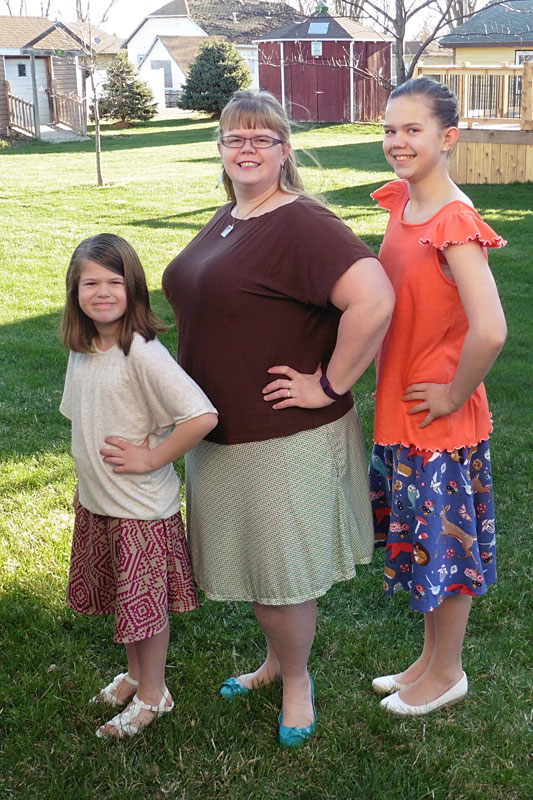 And, of course, getting new skirts means we "needed" new tops to go with! LOL  I'm feeling rather lucky that Kymy's patterns are such quick sews. I spent just one afternoon cutting fabric and only one (long) evening/late night sewing up all six garments!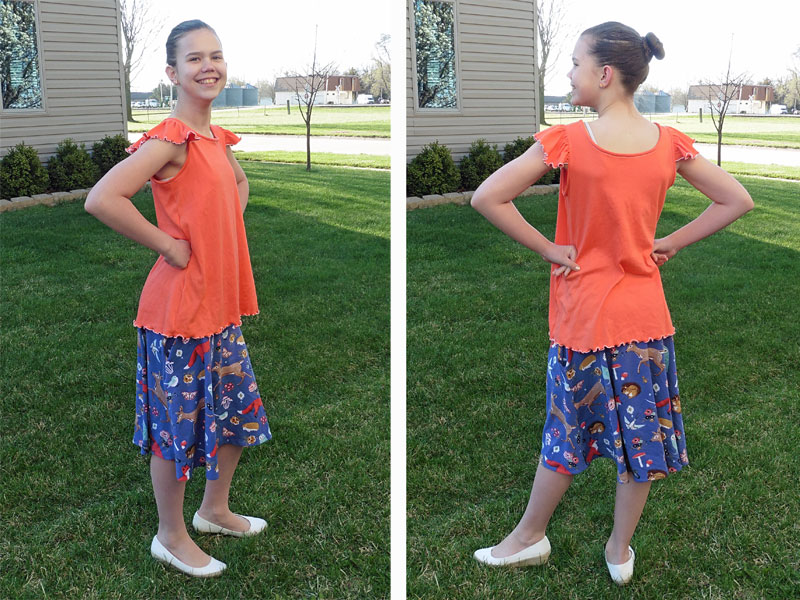 My oldest chose a soft knit covered in forest animals that came from the Doodles collection at JoAnn's for her Girl's Capsule Skirt. Her skirt is a size 14 with 5(!) inches of length added. To go with it, I made her a coral-colored California Peplum (minus the elastic waistline, so it's just a tank top). She wanted me to add flutters like I did for her sister's maxi dress (<- follow the link for a tutorial) last summer, so that she could wear it to church without a shrug over the top. I love the simplicity of the solid coral mixed with the animals on the skirt.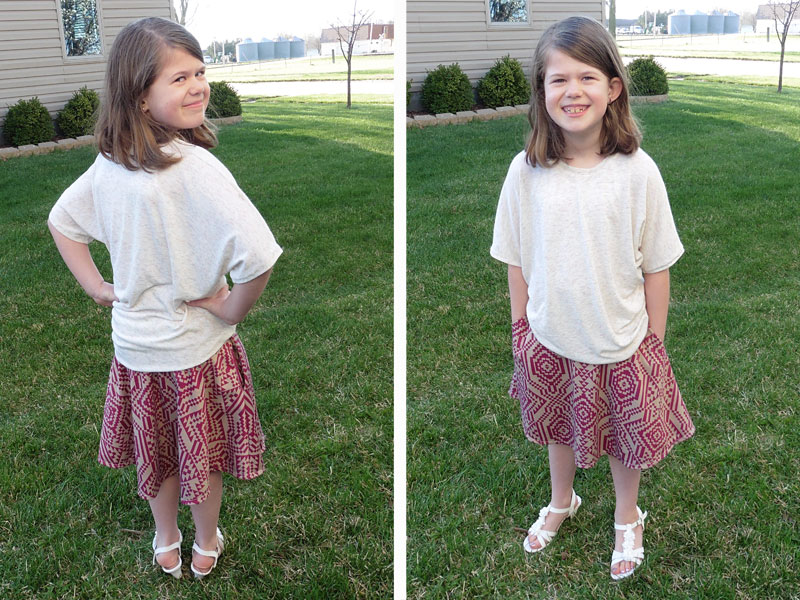 My younger daughter picked out this maroon and tan Ponte de Roma that I got in a Girl Charlee bargain lot recently. I thought this lightweight "Rainbow Heather on White Hacci Sweater Knit" (from the same bargain lot) would make a beautiful Asymmetrical Drape Top to coordinate. Once I pulled out my pattern, I was feeling too lazy to re-trace it one size smaller to fit her so I crossed my fingers and sewed the already-traced bigger size … and I kinda like the oversized-sweater look of the size 12 on her (it also leaves plenty of room to layer an opaque shirt underneath the sheer hacci).
I'd set this mini-houndstooth cotton jersey aside for myself when it came in my Girl Charlee March KnitFix and I thought this would be a great time to pull it out and use it. After sewing up my skirt, I realized it's a little thin for a skirt, but I love it anyways (I just need to layer some shorts under since it's thin and light-colored). I made myself a simple Kymy's Dolman Top from brown jersey to match the teal/green/brown houndstooth on my skirt.
I like how the Capsule Skirt looks great with all three shirt styles! And can I just gush (again) about how I love the hemline options in the Capsule Skirt patterns? Cause I do … I really, really do! There are three hem curve options for every size so that you can have a perfectly level hem even if your body is "imperfect" (I use quotation marks because is anyone's body really perfect?). You have the option to make a longer back to go out over a bigger booty or to make a shorter front if you like to wear your waistband under your belly.
Since my girls and I all have fairly round bottoms, I opted to make the longer backs and normal length fronts on all three of our skirts. I love, love, love that we have hems hanging level with the ground!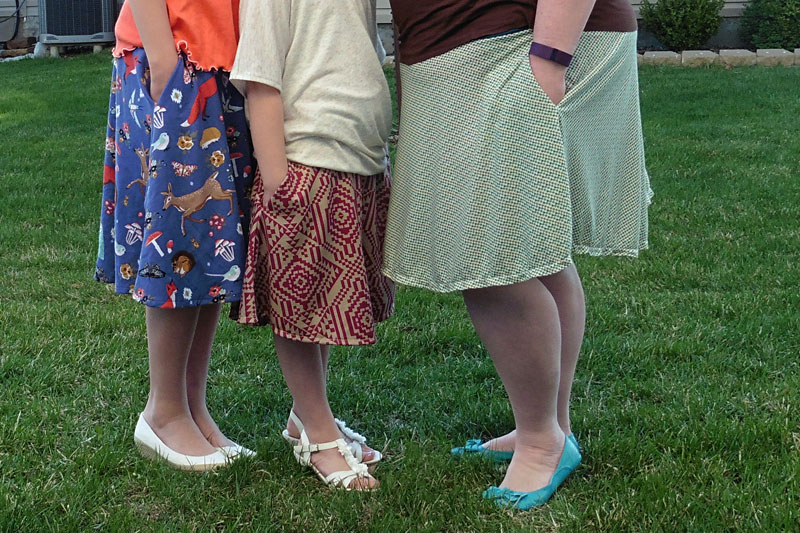 Add in those awesome pockets and no-elastic-needed waistbands and we're in skirt heaven! 😉
Happy Sewing!!  ~  Joelle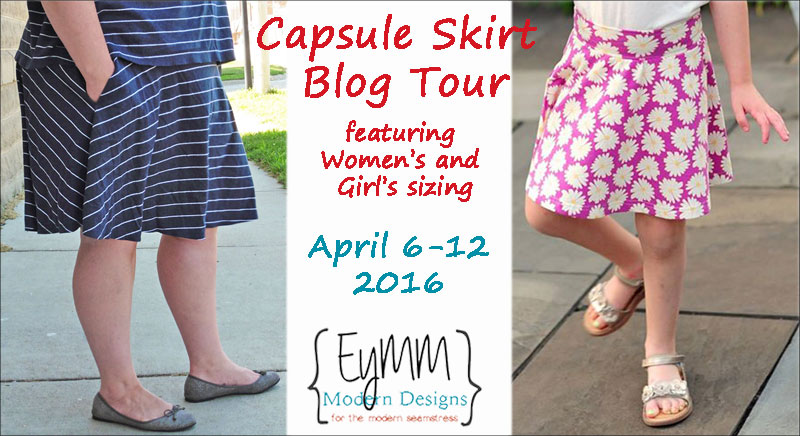 Make sure to check out all the other stops on the EYMM Capsule Skirt Tour. (Note: The links won't be live until the day they're scheduled, but feel free to click through and check out other blog posts any time.)
Wednesday, April 6
Connected by a Thread, Sugarplum Cuties, The Wholesome Mama
Thursday, April 7
Sew Far North, Lulu & Celeste, Pattern Revolution
Friday, April 8
SewSophieLynn, Welcome to our Crazy World, EYMM
Saturday, April 9
handcrafted by RED, Pretty and Precious, Capture, Craft, and Cook
Sunday, April 10
create3.5, Sewing the Seasons, HattieLu Handmade
Monday, April 11
Creative Counselor, Rebel & Malice, Blessed x 5
Don't forget to pick up your copy of the pattern while it's on sale!  Use coupon code PERFECTSKIRT to save 25% on the Women's Capsule Skirt, Girl's Capsule Skirt, or Capsule Skirt Bundle until April 12 at 11:59pm PST.