It's that time of year again! Fall is in the air, which means it's time to sew up some hoodies. Today is the first day of EYMM's 2015 Hoodie Blog Tour, featuring the His & Hers Asymmetrical Hoodie & Hooded Vest and Zander's Hoodie & Hooded Vest.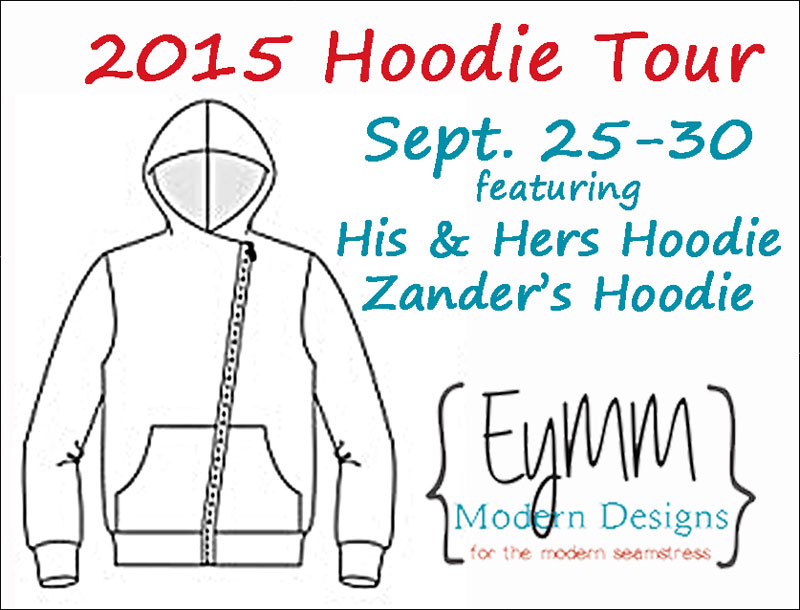 This year, we have 9 talented ladies joining us to show off their latest EYMM hoodie projects. Plus, I'll have some construction tips for the shoulder/neckline seam and installing the lining here on our blog tomorrow.
Make sure to visit all of the stops on the tour to see different versions and some gorgeous hoodie inspiration! Many of the ladies are giving away a copy of the pattern on their blog! Also, check out the awesome savings listed after the tour links below!
*NOTE* The links below won't show the tour posts until 7am PST on their day of the tour, BUT you are welcome to click through and check their blogs out at any time.
9/25
Blessed X Five and Capture, Craft, and Cook
9/26
9/27
Rebel & Malice and Manning the Machine
9/28
Welcome to Our Crazy World and Connected by a Thread
9/29
Pretty & Precious Clothing and Boutique Birdie
Hop over to the EYMM shop and use code FALLHOODIES2015 to save 50% on either hoodie pattern! Coupon is good for Zander's Hoodie & Hooded Vest (newborn-18tween) or His & Hers Hoodie & Hooded Vest (adult XS-5XL) and expires 11:59pm PST on Sept. 29.
*NOTE* These two patterns are INTERMEDIATE TO ADVANCED sewing level, as they include zipper installation and some unique assembly techniques.
Happy Sewing!!  ~  Joelle