I have been eyeing this reversible knit at JoAnn's since I first saw it early last year and finally gave in to its pull last week. I'd so far been able to resist because I couldn't think of the perfect pattern to show off both the dots and stripes, but then I realized I've had that pattern all along!
Storm's Flutter Top is a perfect match for this (or any double-sided knit) because the flutters mean you get to enjoy both sides.
My daughter also loves this reversible knit and tried hard to talk me in to sewing it for her, but I had already claimed this fabric for me. Haha!
I have a feeling that she'll be getting her own Rain's Flutter Top soon, though, because it goes together so quickly. If you follow the pattern, there is only one piece to cut and two seams besides hemming.
It's rare that I follow instructions exactly, however. This time, I deviated from the pattern just slightly to add a band to the neckline rather than hemming it. I also took a "shortcut" and did a rolled hem with my serger instead of folding and pressing and stitching a "proper" hem around the edges.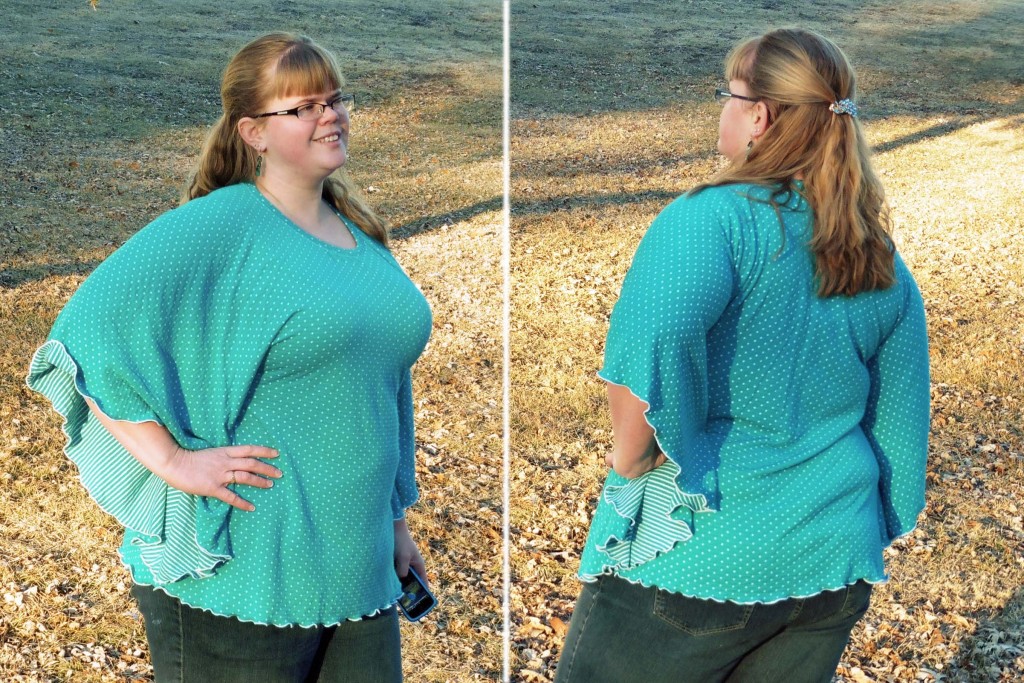 I love how easy it is to customize the fit. The side seams are positioned for a looser fit, but it's simple to move them closer together like I did for a more fitted look or you can move them farther apart if you wanted a little more ease.
You just have to keep in mind that moving both seams equally adds or subtracts four times the amount that you're moving them. I fall between sizes, so I chose to cut the bigger size and then moved  both side seams in almost an inch, meaning I took about 4 inches out of the ease for a closer fit.
Beginning to end (including printing and taping the pattern together), Storm's Flutter Top took me less than two hours! I call that a win!
Happy Sewing!!  ~  Joelle