I am thrilled to announce the official release of the His & Hers Asymmetrical Hoodie! This intermediate-level pattern has 11 total adult sizes, including Women's XS-5X and Men's XS-5XL (some of the women's and men's sizes overlap). It was a pre-order option during the Hoodie Blog Tour last week, but now it's available as an instant download in the EYMM shop.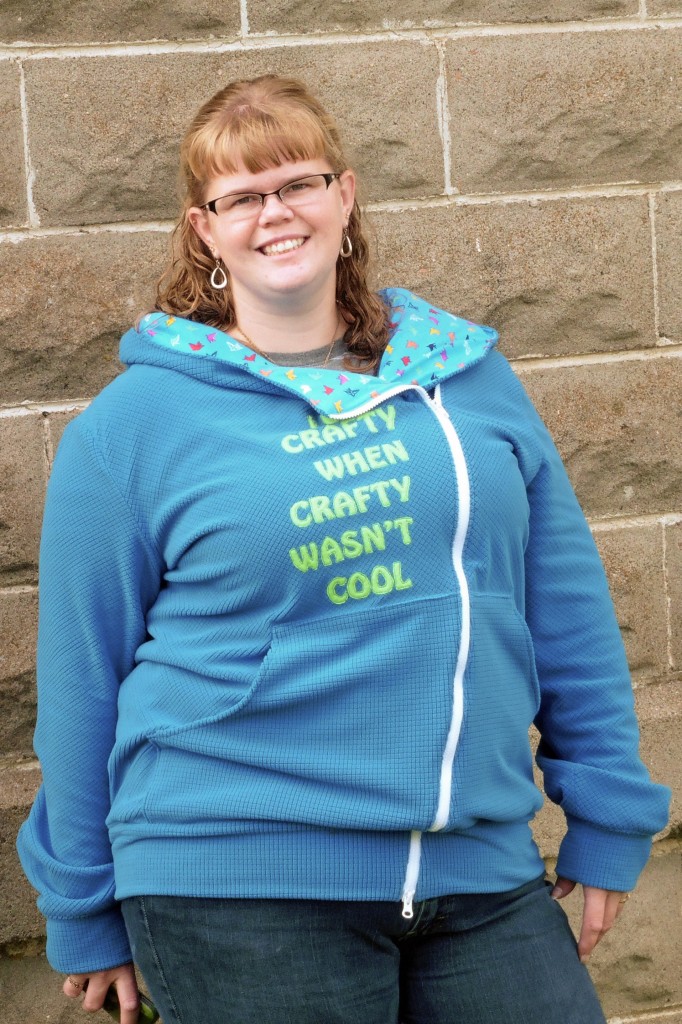 After making Zander's Hoodie & Hooded Vest for two of my boys, I was chomping at the bit to make one in my size. I started scouring the stores for fabric and settled on this textured mystery fabric with a little stretch in it that I found at Walmart for only $3 per yard … score! I chose to line my hoodie with some bright blue knit I got from Girl Charlee that has small bird silhouettes in a multitude of colors. Of course, I couldn't just make myself a plain hoodie so I jazzed it up with an applique on the back of one of my favorite things.
I found a silhouette of an antique sewing machine and enlarged it to fit on the bottom back of my hoodie. Then I upcycled a lime green t-shirt to make the applique (because the machine's natural color of black would have been too boring, lol). I added some decorative swirly stitching to mimic the painted designs on some older machines. I ironed Heat n Bond Lite on the shirt before cutting to give it a little more stability to keep it from stretching out of shape and to apply it to the hoodie before stitching around the edges.
I chose to make the hand wheel, needle, and throat plate from some heather-gray scraps to make them appear metal(ish) colored. Then I used brown fabric to add an antique-style wooden-looking thread spool. Finally, it was time to add thread through the "needle" and on the spool, for which I simply stitched back and forth using a regular straight stitch to fill it in. My girls decided that the thread needed to be bright pink since the blue and green of the rest of the hoodie was not girly enough for them. Haha!
Once I got the back done, I decided the front needed a little something also. I started looking at quotes and fell in love with "I was crafty when crafty wasn't cool." It is a play on Barbra Mandrell's 1981 hit country song "I Was Country When Country Wasn't Cool." I found it extra funny because it's so fitting for me. Crafting has kind of become a cool thing to do since the dawn of Pinterest, but I've been doing crafty things since I was a small girl.
I thought it'd be nice to show how the hoodie looks when unzipped, since most of the tester and listing pictures show it zipped up most or all of the way. The integrated hood (meaning the hood is part of the front pieces, not a separate pattern piece) leaves this flap behind the zipper that seems strange during construction, but makes total sense once the lining is sewn on and you turn the hoodie right side out.
Since it's always helpful for me to see any garment on a variety of body shapes before I sew a pattern, here are a few more tester pictures to provide some more inspiration for you.
With the onset of cooler weather that's coming with fall in the Northern Hemisphere (and with the warmth of spring on it's way in the Southern Hemisphere), this hoodie is the perfect addition for everyone's wardrobe!
What are you waiting for? You can find the His & Hers Asymmetrical Hoodie pattern right here.  😉
Happy Sewing!!  ~ Joelle