It's day 3 of the Kenzie's Party Dress Blog Tour and today's blog feature is from a good friend of mine over at Confessions of a Barefoot Housewife.
Vanessa used the Kenzie's Party Dress pattern to make a flower girl dress for her brother in laws wedding.  She mixed it up by using a sash that matches the wedding party & made the simple skirt version but added a tulle overskirt on the top with flower petals inside the tulle!  She is newer to using patterns & the Kenzie's Party Dress is an intermediate pattern.  Not because it is hard, but because I don't go into detail on all the terms & techniques.  That being said there are links in the tutorial and with that & the power of google she tackled it!!!  Talking with her when she was finished she mentioned that she likes to stay in her comfort zone, lol.  My response was but going out of your comfort zone is often how you learn new things. 😉
That is how I learned much of what I know, I would do a challenging project that was a bit out of my comfort zone, google at times if needed to complete it and I learned a lot of very helpful techniques through the process I would have ever known about otherwise.
I love the simplicity & elegance of her dress, and how she put her own twist on it, but I have to say the back is by far my favorite, it is simply stunning!  Here are a few pictures but make sure to check out her blog for more pictures as well as details about the materials she used and what she thought about the pattern.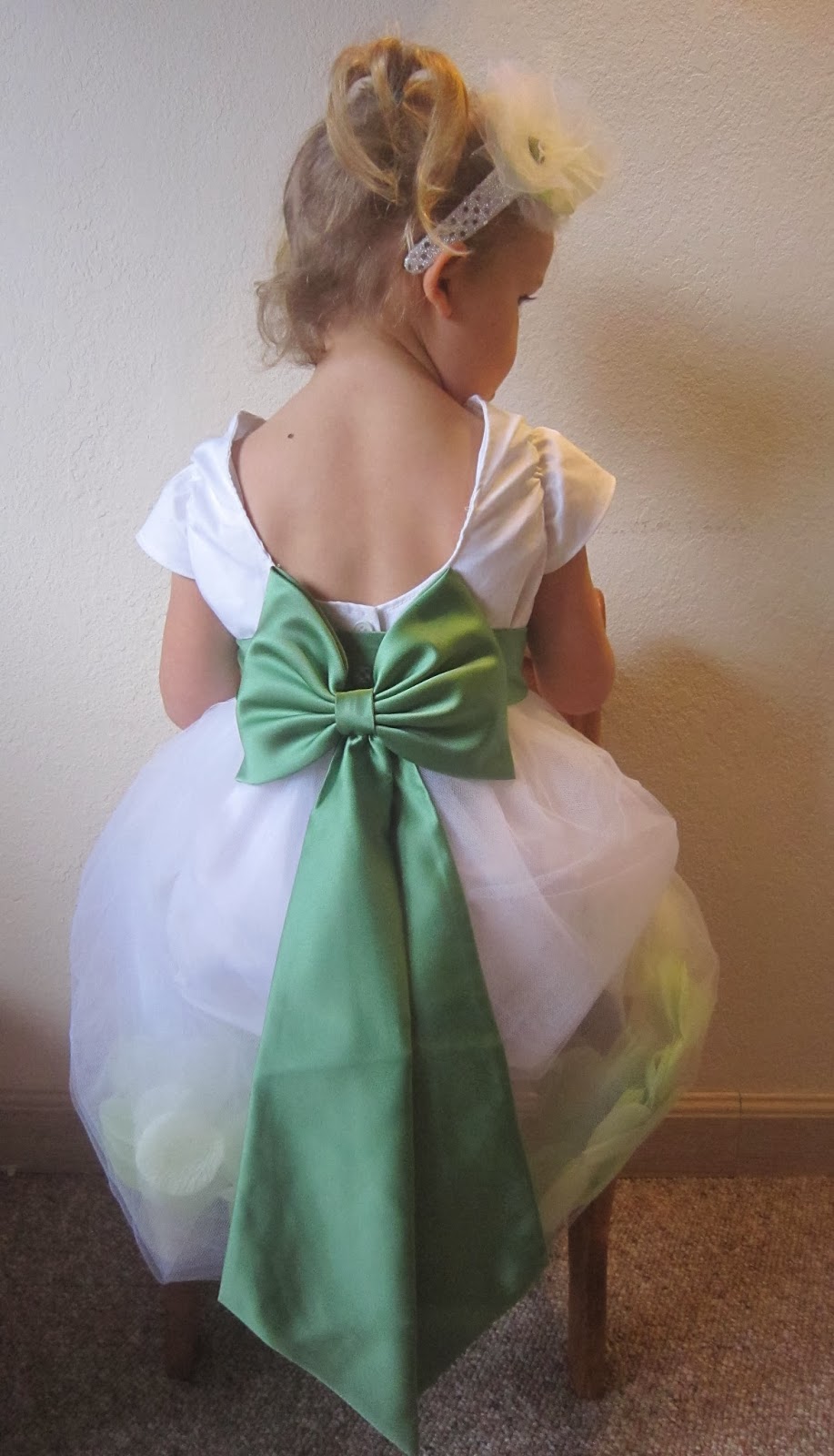 Knowing the little model I have to say I love her natural poses, lol.
Don't forget to follow along this week as more talented ladies share off their creations using the same pattern. Want to get your own copy of Kenzie's Party Dress & Skirt?  Now
until 2/24 use the code "kpdblogtour" on a Kenzie's Party Dress order of $8.95 or more from www.eymm.com & get $1.95 off.  This makes individual patterns just $7 & the bundle with both size ranges AND the bonus doll add on just $12.47.  Limit 1 coupon per person.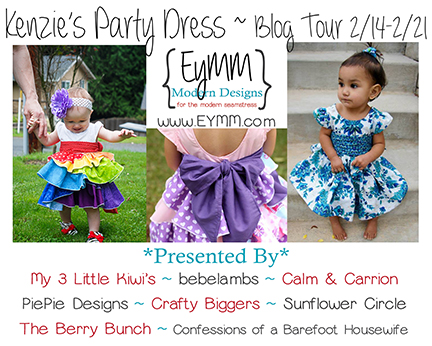 2/14 The 3 Little Kiwi's
2/15 Calm & Carrion
2/16  Confessions of a Barefoot Housewife
2/17 PiePie Designs
2/18 bebelambs
2/19 Crafty Biggers
2/20 The Berry Bunch
2/21 Sunflower Circle