I have been looking forward to this blog tour so much!  I am so excited to see what these talented ladies have created.  Today is the first day of the tour and Lydia from My 3 Little Kiwi's is the first stop on the tour! She did the simple skirt version of the dress for her daughter using a solid red satin.  I must say it turned out stunning and the perfect start to the tour and for Valentines Day.  So simple yet so elegant.  Here are a few pictures but make sure to check out her blog for more pictures as well as details about the materials she used and what she thought about the pattern.
Don't forget to follow along this week as more talented ladies share off their creations using the same pattern.  Want to get your own copy of Kenzie's Party Dress & Skirt?  Now
until 2/24 use the code "kpdblogtour" on a Kenzie's Party Dress order of $8.95 or more from www.eymm.com & get $1.95 off.  This makes individual patterns just $7 & the bundle with both size ranges AND the bonus doll add on just $12.47.  Limit 1 coupon per person.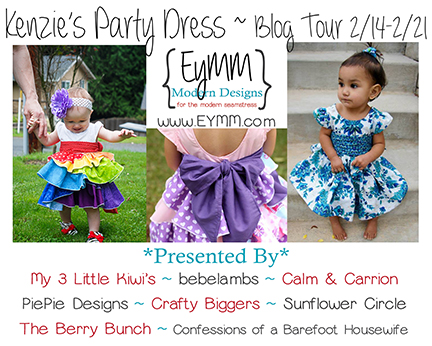 2/14 The 3 Little Kiwi's
2/15 Calm & Carrion
2/16  Confessions of a Barefoot Housewife
2/17 PiePie Designs
2/18 bebelambs
2/19 Crafty Biggers
2/20 The Berry Bunch
2/21 Sunflower Circle