So the last week has mostly been spent cutting out lots of super hero capes and their pieces as well as dresses for the dress swap & reworking and drafting some PJ patterns!  This means I get to spend the next few days doing LOTS of sewing.
So last night I started out with cute matchy monster PJ bottoms for Zander, baby Parker & Zanders little boy cabbage patch doll!  For these I used CarlaC's 'Easy Fit Pants' pattern from You Can Make This.  Zander's are a size 5, the ones I made for Parker I sized down the 6m pattern to make a size 3m & then I made the pants for the cabbage patch doll using the 15″ doll pants from the free ebook that came with the pattern.  I think after getting the patterns set up it took less then 1 hour to make all 3 pairs? These are the 2 small pairs.  The fabric is snuggle flannel that I bought at JoAnn's last year on black Friday for $1.49 a yard :).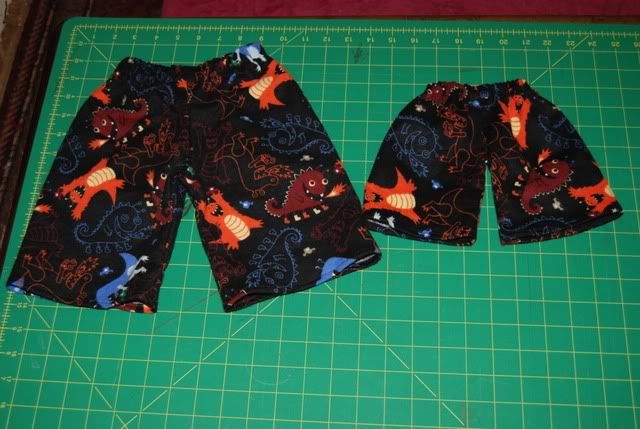 Then today I got one cape set completely finished, only 24 more to go!
Between cutting out cape orders I finally got a chance to try out the peasant nightgown pattern I drafted.  The twins LOVE them & I am happy with them, though next time I will be making the sleeves at least .5″-1″ longer.  The fabric is some super soft unicorn fabric I picked up 3 years ago from a Walmart in Canada while on vacation, I think I only paid $2.97 a meter?  Here are the girls & Zander after testing them out at nap time. The first thing Carlie said when she woke up is that it was very 'cozy' so I think it was a hit!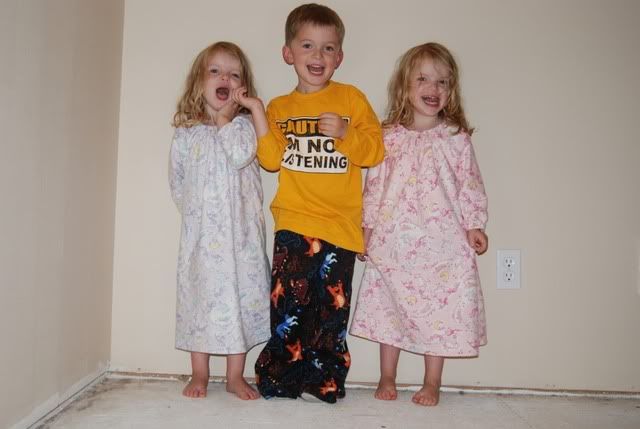 So far this month I have sewn up 25 1/4 yards & we are just at the half way mark, I have a LOT more in-store.