At 8 tonight I talked to Zander before bed & we decided that he had out grown his John Deere bedding after 2+ years & that it was time for some pirate bedding! So I pulled out this more almost 5 yr old friendly pirate fabric & got to work!
I in less then 90 minutes I made him 2 fitted sheets, a semi-fitted top sheet & a pillowcase (all crib size sheets). I even made him his own pirates tags where X marks the spot
. I finished up making his curtains to match but I have applique to do tomorrow, it's gonna be cool
. I may also make him a black bed skirt to hide the storage under then & then I will work on his blanket!
I won't get action shots until it's all done because it's a semi-surprise while he is at his dads house but I watch them for a few hours on his days still so I can't put it in his room yet. I am super excited about how it has turned out so far!  I also used 7.25 more yards of fabric! I tweaked the pillowcase pattern I had been using that was turning out WAY to big, so I was able to use 1/4 less of a yard of fabric!
The semi-fitted sheet with the contrasting top is the left side of the chair, both fitted sheets are on the right & the pillowcase is hung over the back. I promise better pictures soon!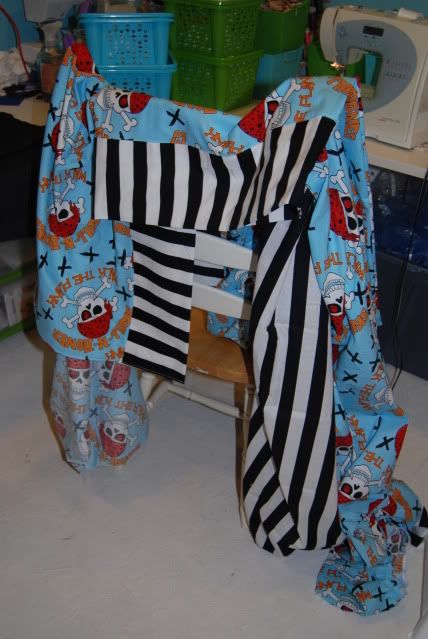 My pirate tag