In October I finally found a new bow lady :). It had been 2 years since I had gotten the girls nice bows & they actually need them now to keep their hair back! I was unsure at first… I had 'thought' I found nice made, cute affordable bows the year before & had been rather disappointed with them. So when I got my first order in Nov. I was SUPER excited! I have been meaning to share pictures but I kept forgetting to take them!!!
They are form Bows by Dana on Etsy.  Not only are her bows cute & well made, but her shipping is actually reasonable (and shipped well) and she often offers a small discount on large orders! And since I only use one in each girls hair I can afford to order more :).  If you want something custom including single bows instead of sets just convo her!  She is AWESOME to work with.
Everyone asks where the heck I get bows/clips that STAY! This is it :). I get mine fully lined & she ads a non-slip piece, but the partially lined ones with the non-slip piece hold just as well! This is a picture of one of the actual clip parts…
Here is my Oct. order that I got in Nov. (takes 1-2 weeks for them to be made & shipped) some are basic & others are M2M Gymbo!
M2M Gymbo Watermelon Picnic
M2M Gymbo Fall for Monkeys
M2M Gymbo Holiday Panda
Adorable purple butterflies for Baylie.
And cute little pink butterflies for Carlie.
Finally some basic colored kronkers to match all their random stuff!
So they have been wearing this lots since then.  The pink & purple butterflies are PERFECT for school so the teachers can tell them apart :).  SO when they grew out of 2t in 6 months instead of a year I had to by them a bunch more clothes!  SO of course I go back to my new favorite bow maker to order so more :).  She was even faster this time then last PLUS she sent me 2 sets of bows to give away here on my blog!  So check back in the next few days for the first giveaway :).
Anyways on to my most recent order :).  I was even able to order M2M Gymbo bows for a line that hadn't come out yet (she made them as soon as she saw the SKU's).   So here is my most recent order to match most of their 3T stuff I have got the last few months!
M2M Gymbo Fairy Fashionable (newest line)
M2M Gymbo Gingerbread Girl
Coordinating M2M Gymbo Super Star

M2M Gymbo Daisy Days AND the new daisy gymbo line next month 🙂
Just like the ones I got the first time, but these ones are for there dads house…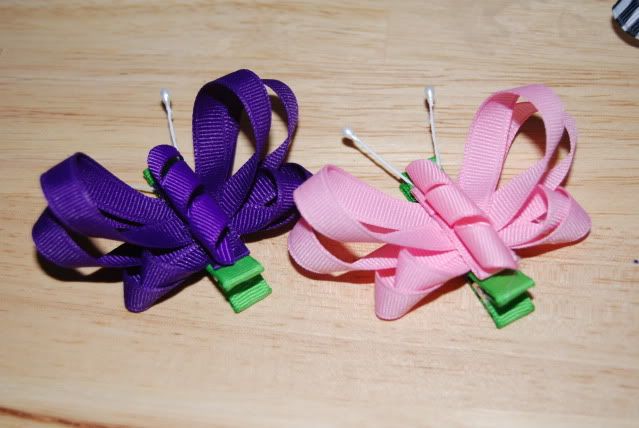 I just had to get these, I have a super cute dress that I am making that these will go with perfectly!
AND for a sneak peak, these are the 2 sets she sent me to giveaway the next couple weeks :).
Cute Pink Butterflies
M2M Gymbo Popstar Academy/Little Hearts