On advantage to the wedding getting pushed back i I have more time to fiddle with the twins dresses :).  After looking & hymning & hawing I decided to just go with something classic.  I got the shape of the neckline from an Ottobre pattern, but everything else about it is self drafted.
I am very happy with how it turned out, except for the fact that the test fabric I used only had enough to make one dress!!!!  My niece is almost 2 sizes bigger then the twins, so I'm not sure what I will do with it, but I love it & it has a little bit of a retro yet modern feel to it!  I will be making the girls out of ivory silk dupioni with a dark red satin tie.  I will be making the ties longer, but that is it!  They will be able to wear them for the wedding and for the holidays which is awesome 🙂
I will try to get model pics tomorrow, but here it is on the mani.  This is only my second time doing buttons on a dress like this & the first time on one I self drafted :).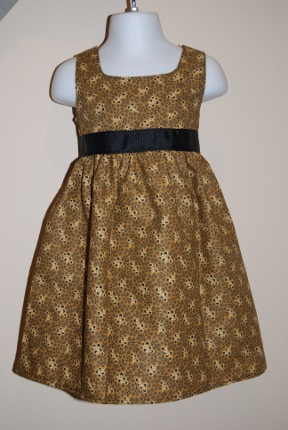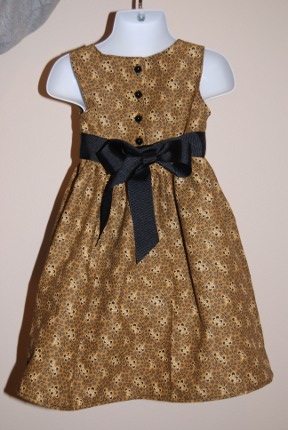 SM SG Points…
Yardage = 1 = 8pts
Notions = Buttons, Ribbon, Clear Elastic, Label & Size Tag = 5pts
Hand Sewing = Buttons = 1pts
Total = 14 pts