So for the sewing forum (Sewing Mamas) that I belong to we are having a month long contest to get through as much of our stash as we can. There are points & prizes & all sorts of fun stuff. My goal is 500 points VERY ambitious, but I have a lot of stash to get through!!!! So I figured I would post pictures of what I have done the last too days!
Well I finished a crib sheet (1 of 5 to make) & the 1st twirly skirt yesterday (2/1) Then I finished the 2nd twirly skirt the first of 2 Olivia's for the twins; and I actually sewed for ME. I think this is the first time in a very long time!!! Anyways I made myself a pair of cheeky undies & a pair of ballet slippers!!! Here are my pics…
Total points +17 points
Close up of the corners…
Zander enjoying it! (please ignore the highwater PJ's I made those last year & her REFUSES to give them up)
The Olivia… this is the first knit AND first striped thing I have sewn!!!! Plus I did it all on my sewing machine cause I can't find my white serger thread!!! Best part is the fabric for BOTH dresses was only $1.50… .75 isn't bad! Now just to make the second one! These are a 1/2, so it will be a while till they fit!
Total points +10
Front…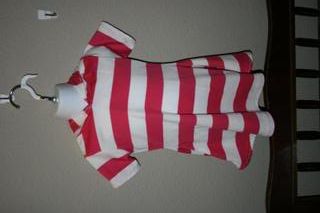 Back…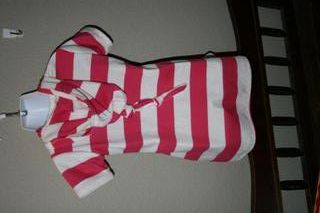 My stripes line up!!!!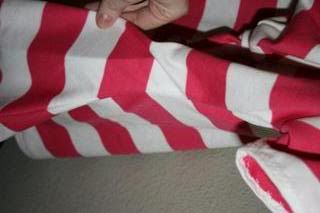 Next up 2 lovely Valentines twirly skirts!!! I finished one last night & tried it on Baylie this morning & Carlie was having a FIT she wanted it, so I finished up the other one (after sewing it together backwards!) The bottom edge I finished with a rolled hem. I will try to get action shots later they are teething & cranky! This fabric isn't super soft, but it cost me $1.50 to make them both & the girls are both happy!
Each skirt +7pts….
Total +14pts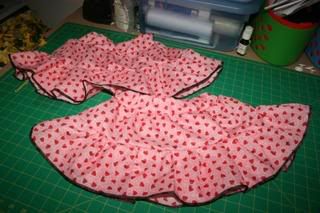 My first ever attempt at mama undies! I am actually EXTREMELY pleased with them. I know the rolled hem looks a hair funky, but its because they stretched a bit when I tried them on, I WILL be making more! They are cheeky panties & have no elastic or bias tape which makes them easy to make, but they take a little more fabric. This was fabric I got at the thrift store months back for $1… & I can make 3 more pairs!
Total +4pts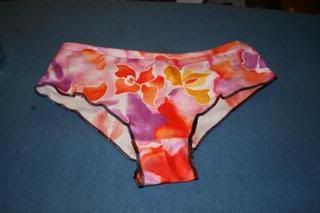 FINALLY, my ballet slippers… I like them but the pattern sizing ran a little small… luckily I could tell just by looking at it so I upsized! Next time I will also make the backs a little higher, but all in all I am very pleased!!! Zander calls them my minnie shoes 😀
Total +5pts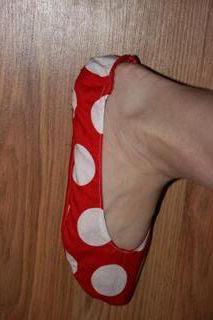 Points for 2/1
Crib Sheet +17
1st Valentines Twirly Skirt +7
2/1 Total… +24pts
Points for 2/2
2nd Valentines Twirly Skirt +7
1st Striped Olivia +10
1st Mama Cheeky Undies +4
"Minnie" Ballet Shoes +5
2/2 Total… +26pts
RUNNING POINTS TOTAL… 50pts ONLY 450 TO GO!
RUNNING YARDAGE TOTAL… 5.75yds