All summer long, I've been jonesing to sew up a new maxi dress, but just couldn't find the time with kids home from school and lots happening the last couple months. So when Tibeca at Sewing by Ti announced that her blog tour this month was themed "My Favorite (Sewing) Things," I knew it was my chance to put a deadline on sewing my new maxi dress.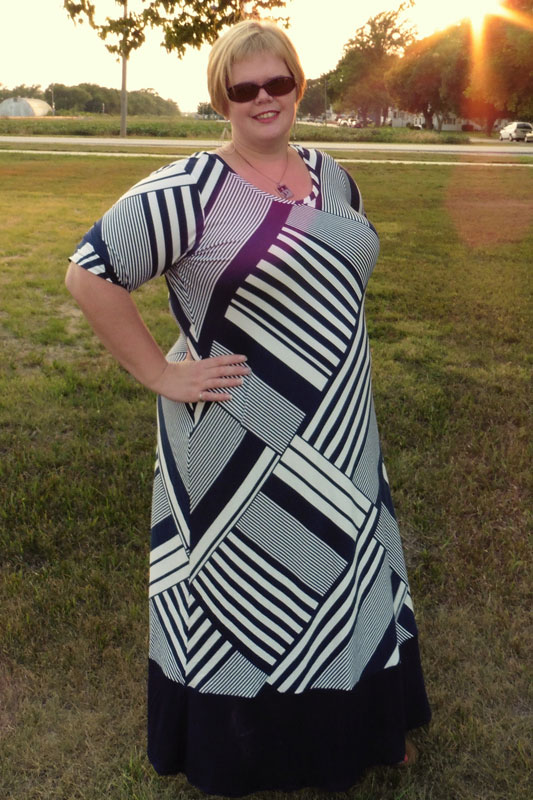 I've professed my love of the California Dress over and over in the past, so it had to be my obvious choice for the "My Favorite Things" theme. Then I decided that going into fall meant I'd need sleeves soon … California Cardi Sleeve Mash to the rescue!! Of course, I could have sewn the Four Seasons Cardigan separately, but honestly I'd rather just be able to throw on one garment and not add a layer if I don't have to. 😉
I've had this navy and white crosshatch/striped cotton/spandex set aside to make a California maxi for a long time … so long that I can't even remember where I bought it for sure! LOL! As I was laying it out, though, inspiration struck and I decided to fold it on the bias rather than straight with the grain before cutting so that the stripes would all be angled (and, hopefully, appear more flattering). After folding, however, I realized that at a 45 degree angle there wasn't enough width and length to cut out a maxi dress without adding a seam up the center (like on my stripes to chevron tutorial). So I stared at it on my cutting mat for a bit, then went digging in my stash for a coordinate to color-block the bottom hem. I'm so glad I found the solid navy because I feel like it really "grounds" the pattern of the dress.
Other than the sleeve mash and color-blocked bottom, the only thing I altered was to leave off the elastic waistband and then slim the side seams just a smidge through my rib cage area. I love how it hugs and then skims over my curves. Plus, not adding a belt to define my waist means one less item to put on when I get dressed and ups the comfort level! 😉
Happy Sewing!!  ~  Joelle
P.S. Tibeca has put together an excellent line-up of bloggers. Make sure to check out everyone else's favorite things all month long!! (Note: The links below will not work until on/after the date they're scheduled.)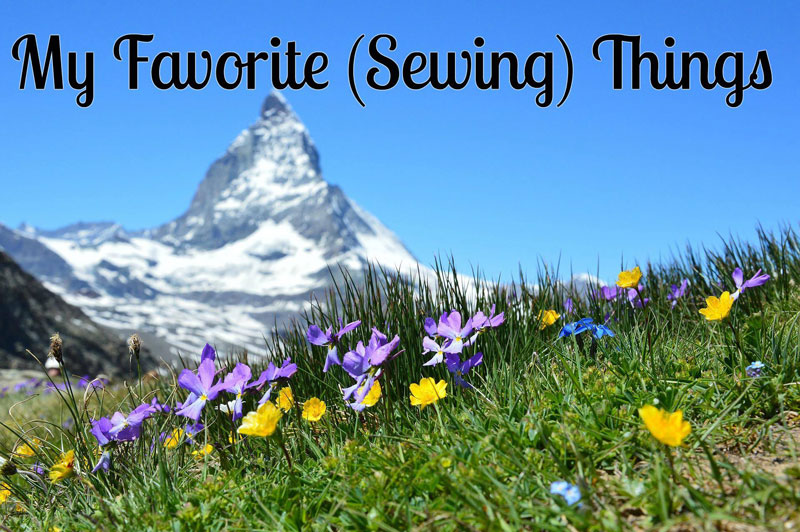 Aug. 1 – Intro on Sewing by Ti, Tenille's Thread
Aug. 2 – Stitching At Night
Aug. 3 – Sewing By Ti
Aug. 4 – Needles To Say
Aug. 5 – Very Blissful
Aug. 6- The Fairy Dust Bin
Aug. 7- Anne-Mari Sews
Aug. 8 – Sewing With Sarah
Aug. 9 – Thats Sew Lily
Aug. 10 – Stitching at Night
Aug. 11 – EYMM (You're here now!)
Aug. 12 – Sew Sew Ilse
Aug. 13 – Lulu & Celeste
Aug. 14 – Seams Sew Lo
Aug. 15 – Tales From a Southern Stitching Mom
Aug. 16 – Stitching and Making
Aug. 17 – Creative Counselor
Aug. 18 – Ma Moose
Aug. 19 – Kainara Stitches
Aug. 20 – Embrace Everyday
Aug. 21 – She Who Sews
Aug. 22 – Idle Sunshine
Aug. 23 – My Heart Will Sew On
Aug. 24 – Lovely For Life
Aug. 25 – Margarita On the Ross
Aug. 26 – Anne-Mari Sews
Aug. 27 – Made By Melli
Aug. 28 – Adventures with Bubba and Bug
Aug. 29 – Auschick Sews
Aug. 30 – Me Made
Aug. 31 – Living in Twinado Alley