I've (still) been severely lacking in the sewing motivation department. So when Tibeca announced that she would be hosting the Color Me Lucky Tour during the month of March, I hopped on board with hopes that a deadline would kick me back into sewing gear. For this tour, we were challenged to choose a color from the Pantone Spring 2017 palette to inspire our new outfit.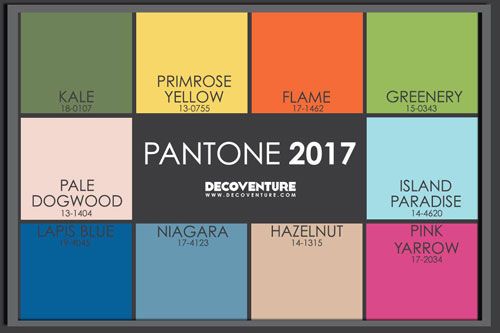 I was already leaning toward Lapis Blue when Tibeca contacted me to offer a couple yards of fabric to review from her new fabric shop Simply By Ti. After perusing her selections, I found this floral print rayon spandex with several shades of blue that fit my chosen color palette beautifully. I ordered it and it was shipped super fast, arriving within the same week!
** Disclaimer: I received this fabric for free to review from Simply By Ti. Although this post is sponsored, all opinions are my own. **
Teased by temperatures that were abnormally warm for February in the Midwest, I whipped up a short California Dress to celebrate the oncoming spring weather. And then, as it does, the weather turned cold again before I got around to taking pictures. It was hovering just under 40*F and was windy and cold when I stepped out to photograph my new dress … which meant I had to pair it with leggings to keep from freezing my legs and we worked super fast while I had my jacket off. 😉
To be honest, I was a little nervous choosing a rayon spandex fabric because I've not had good past experiences with this blend. I have come across some super thin rayon spandex in the past that pilled terribly during it's first wash cycle, but I'm so glad that wasn't the case when I received my order from Simply By Ti. I knew that my dress would not be getting any special laundry treatment, so I washed and dried on hot to make sure it would hold up (though, I generally use cold water and a low dryer temp). It came out as bright and beautiful as it went it, with no pilling in sight. Yay!
Tibeca has deliberately stocked heavier weights of rayon spandex that are much less frustrating to work with than lighter, thinner weights. Besides being easier to handle and sew with, it's thick enough to not have to worry about what color undergarments to put on (you know, when it warms up enough to shed my leggings, lol). And yet, it's still plenty stretchy, feels super soft, and drapes beautifully! I have only good things to say about it.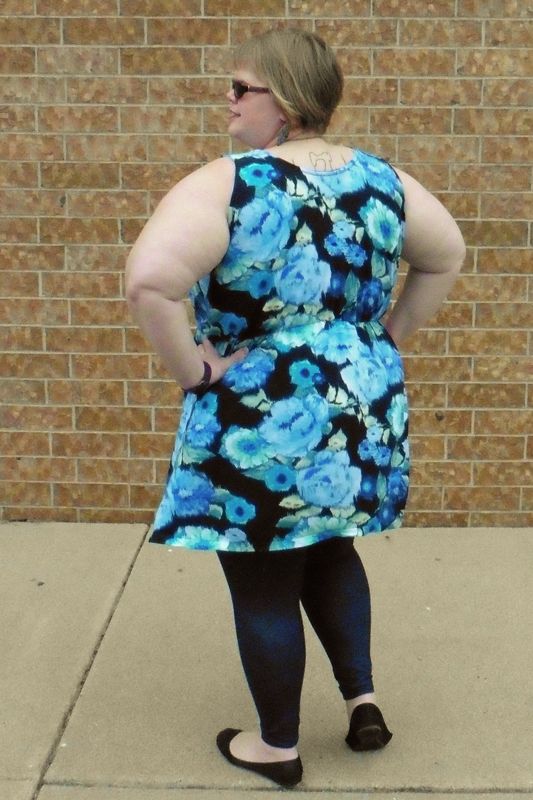 I made the California Dress in the above the knee length and using the scoop neck bodice for both the front and the back. I'm planning to wear this casually during the summer, so I followed the instructions as written for the elastic waistline (in the past, I've often left it off in favor of wearing a wide belt for a more formal look). Plus, I could tell the rayon spandex would drape gorgeously over the waistline, as intended.
I was happy to find that the 5% spandex content, combined with the thickness, means that this fabric has plenty of the recovery needed for the bands around the neckline and armholes of the California. I think I've found my new supplier when I need to order rayon spandex! By the way, Simply By Ti also stocks cotton/Lycra, French terry, some trims and stretch lace, and a few other assorted knits.
Luckily for me, my new dress looks cute with leggings and a jean jacket so I can enjoy it even on cold days. However, that won't stop me from wishing for the weather to get warm (and stay warm) soon! Come on, Spring!
Happy Sewing!!  ~  Joelle
P.S. Are you ready to follow along on another great blog tour? There is new inspiration for you every weekday for the entire month of March! Go check out how others are interpreting this color palette!
Wednesday, March 1st Sewing By Ti, Hazelnut Handmade
2nd Crafty Like a Rox
3rd Sewing By Ti
Monday, March 6th Tenille's Thread
7th Harper + Lu
8th Creamer and Chaos
9th Sewingly, Michelle
10th Sewing By Ti
Monday, March 13th EYMM
14th Harper + Lu
15th Sprouting Jube Jube
16th Very Blissful
17th Doodle Number 5
Monday, March 20th Ma Moose
21st On Wednesdays We Sew
22nd Robynne and the Bobbin
23rd Crafty Like a Rox
24th Sewing By Ti
Monday, March 27th Rebel and Malice
28th Lulu & Celeste
29th Robynne and the Bobbin
30th Anne-Mari Sews
31st Margarita on the Ross