Did you hear about or take part in last 2 year's Craftsy community service sewing project? They had an incredible response, with blog readers sewing more than 250 NICU smocks to be donated to Vanderbilt Children's Hospital in 2014, and then in 2015 they had 1,663 NICU smocks donated to hospitals in the US & Canada, all using the Free EYMM NICU Smock Pattern.
This year, Craftsy  is once again inviting readers to sew along with them and bring some cheer to families of babies admitted into NICU care in even more hospitals!  There are 6 different collection groups this year to help spread out the love.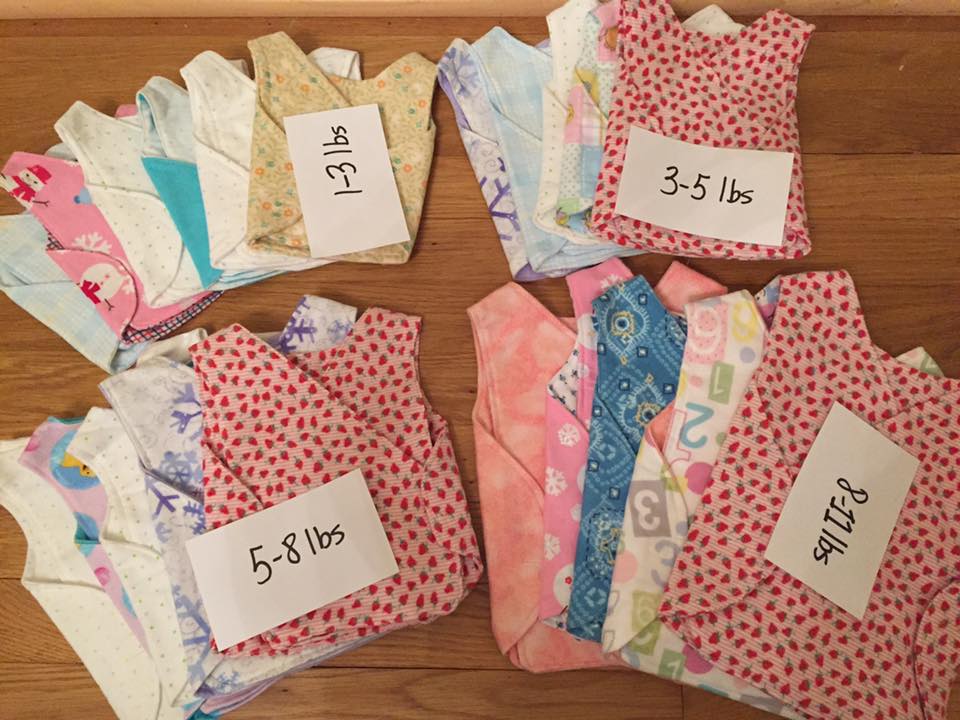 Because of the wires and tubes babies wear in the NICU, normal newborn clothing is not an option. That is why I created the free NICU Smock sewing pattern that has been downloaded by thousands of people all over the world in the last 8 years. It's encouraging for parents going through a difficult situation to be able to dress their baby in a handmade outfit for photos and for warmth.
This project has grown SO MUCH over the last 8 years from a small group of mostly non-sewing twin moms to the international project it is today.  I created this pattern before I started creating & selling clothing patterns and it is due for an update!  I am working on it, but didn't finish in time for this years drive.  The size/shape/construction of the smocks will NOT change.  It is mostly just an update to match the printing format of my newer patterns and correct a few typos and better clarify directions for sewing on velcro for the reversible option.  None of these things will effect current smocks, but you will get an updated version via email when it is released.
Last year, readers sewed a variety of NICU smocks in holiday and everyday, child-friendly prints. Every little outfit adds up, and they were blown away by the number of readers who sent in not one or two, but 10, 20 or even 40 tiny little smocks! Each year, Vanderbilt's Level 3 NICU admits over 1,300 critically ill newborns to its 104-bed facility. All this to say that we'd love to donate just as many smocks as last year, and any number of smocks you can donate will go to good use!
This charity sew-along runs from August 1, 2016 to November 1, 2016. This gives you three months to sew up one or more NICU smocks (each takes an hour or less to sew) and donate them to a great cause. No matter where you live, we'd like to invite you to join us in sewing for charity.
1. Download the FREE NICU smock pattern on Craftsy! Print off the last six pages, and follow the directions for your chosen size.  This free tutorial is a great way to add size labels to your smocks if you choose.
2. Please use quality quilting cottons or flannel for the outside, and any coordinating flannel for the lining. We recommend you pre-wash your fabrics in a sensitive/free & clear detergent if possible.  Please secure with velcro, not snaps.
3. Join our Facebook group to share your creations! We are currently 650+ members strong, and a supportive group where anyone is happy to answer your questions.
4. We've assembled a team of people to collect the smocks, so you may mail them to any of the addresses listed in this Google document. In order to even out the donations, we've made suggestions on who to mail them to based on your last name. All smocks must be postmarked by November 1, 2016.
Can't get them done in time for this years drive?  Gracie's Gowns accepts them year round!