I'm a sucker for upcycling and re-using any type of fabric I can get my hands on. In my stash, I have several laundry baskets full of things to re-make into something else. Problem is, I have so much that I don't have time to do it all. So when Ula over at Lulu & Celeste put out the call for an upcycled/recycled Earth Day Blog Hop, I knew it'd be just the push I needed to dig through my baskets and make something old into something new.
I've been craving a new sundress since the last snowfall (which, at my house, was on Easter weekend), so I'd kept my favorite California Dress pattern in mind as I went through my "to upcycle" items. My hands landed on this fabulous vintagey floral full-size flat sheet and I knew it needed to be a maxi so I dug until I found a coordinating knit dress with a wide enough skirt to cut my bodice from.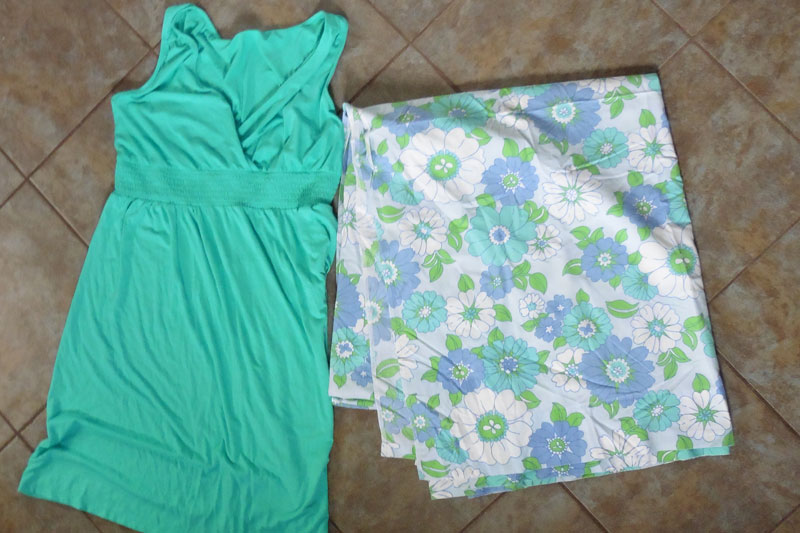 As I was cutting the skirt off the dress, I got the idea to re-use the shirred waistband on my new dress. I slipped it on myself and it was just big enough to fit comfortably. Yay! I cut it off, leaving about 1/2 inch above and below the shirring for the seam allowance to attach it to the new bodice and skirt.
From the skirt of the old dress, I cut the scoop neck bodice for both the front and back of my new California Dress. There was just enough width to the skirt for my 1x California bodice to fit and I cut it straight across at the pattern's waistline marking since I planned to attach a woven skirt. Because there was a seam down the back center of the old skirt, my back bodice gained a "design element" as I