I'm beginning to think that Mother Nature has a spy cam inside my sewing room and enjoys ruining my plans! Why, you ask? Well, a couple weeks ago I got all excited about the cooler weather and sewed up several tops with 3/4 length sleeves and a couple cardigans. Then "she" decided to make the temps hit the 90s for almost a week straight! So, yesterdy (when it was sunny and 90* outside) I decided that I was going to sew up one last California sundress before fall really arrives. Guess what happened today? Yep … rain showers and a projected high of only 64*F! Gah!! Oh, well, I'm wearing it anyways!!
This dress is made from another Girl Charlee KnitFix. Originally white-on-white daisies (with light green centers), it wasn't a very popular fabric back in July. After seeing some other ladies in the KnitFix Facebook group dye it various colors, I envisioned this maxi and snagged myself two 2-yard cuts (because one wouldn't be enough for a plus-size California maxi) from people who were looking to get rid of it.
When they both arrived, I threw them in the wash with one bottle of "fuchsia" and one bottle of "cherry red" dye. I was hoping for a dark pink and nailed it!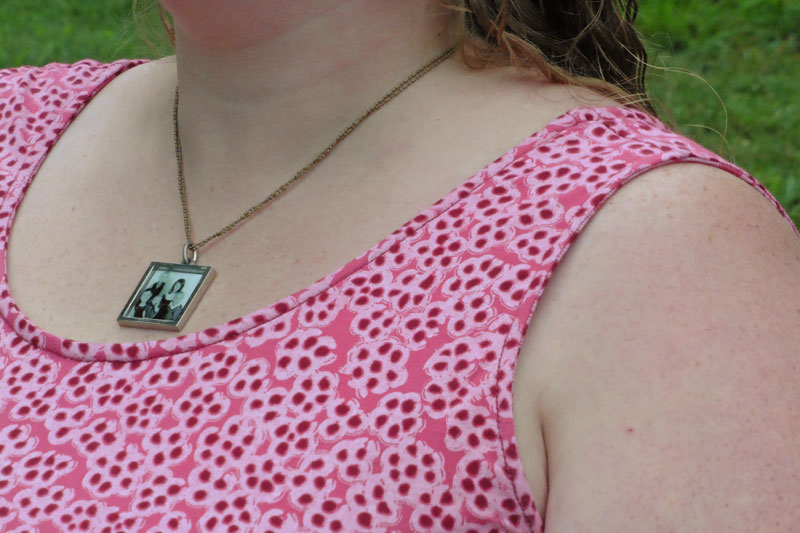 In my opinion, they don't look much like daisies anymore (or maybe they never did, lol) … but that's not a problem for me! I love the way the green centers took the dye darker and the white printed flowers only changed to a light pink.
I was aiming to make a more casual sundress, so I put in the elastic waistline so I wouldn't need to wear a belt to pull the waist in. I moved it up about 3 inches from the pattern marking, so that it would hit the smallest part of my waist. Other than that minor change, this dress follows the pattern exactly for a double scoop neck (front and back are both the scoop necklines), floor-sweeping maxi.
Unless Mother Nature changes her mind about the weather again, I guess I'll be pairing my new maxi with a shrug or jean jacket until the snow flies (making a floor-sweeping maxi kind of impractical). Hopefully that won't happen until November! Maybe I need to sew up a sweater just in case she's spying and wants to foil my ability to wear it comfortably! Hahaha!
Happy Sewing!!  ~  Joelle