Have you seen EYMM's newest pattern yet? The Women's Everyday Essentials set is part of the Bundle Up Sale presented May 1-8 by Pattern Revolution.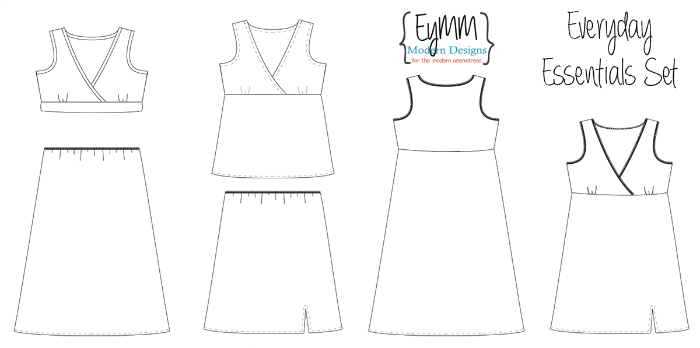 Everyday Essentials includes six (yes, 6!) different knit undergarments, perfect for layering or sleepwear. The collection is made up of a sleep bra, cami, short nightgown/full slip, long nightgown/full slip, short half slip, and long half slip. The three different cup size options for each of the 10 sizes allow you to make a garment perfectly fitted to your unique body shape! I love the crossover bodice and was excited to sew up my own.
I chose a thicker cotton jersey knit, to allow me to wear it alone as a tank top. I used the more modest coverage option, which forgoes the under bust gathering and overlaps the crossover a bit more and it worked out perfectly!
I love this cami and have plans to make more, plus a couple nightgowns. They'll be just *ahem* enough *ahem* to catch hubby's eye, but still "safe" to wear around the kids. 😉
The full back coverage and wide straps make it easy to wear a bra under the cami or full slip version. Combined with the built-in under bust band, they also mean decent support for the sleep bra and nightgown versions.
Wondering what else is in the bundle? Eleven designers collaborated on this fabulous collection of women's patterns, available for one week only at an amazingly low price.
To Bundle Up and save, you must choose a minimum of 6 patterns from the 11 available (good luck with that, lol). The more you choose, the more you save per pattern!
PRICING DETAILS
•$4.50 each for 6-7 ($27-31.50 total)
•$4.25 each for 8-9 ($34-38.25 total)
•$4.00 each for 10 or more ($40- $44 total)
Get yours before the sale expires on May 8 or you'll have to wait two more weeks before you can buy the patterns individually (not to mention, you'll miss out on the super-deal prices!).
Happy Sewing!!  ~  Joelle