Guess What!?! As a holiday surprise for all their customers, EYMM and Greenstyle Creations have decided to release their latest SewFab bundle patterns early! Tomorrow, both the Off the Shoulder Dress & Peplum and the Norah Nightgown and Panties will be available for individual purchase from their respective designers.
To help celebrate their release, we've put together a short and sweet blog tour featuring both patterns. The Naughty and Nice Double Pattern Release Tour will have two stops today and three tomorrow. Yay!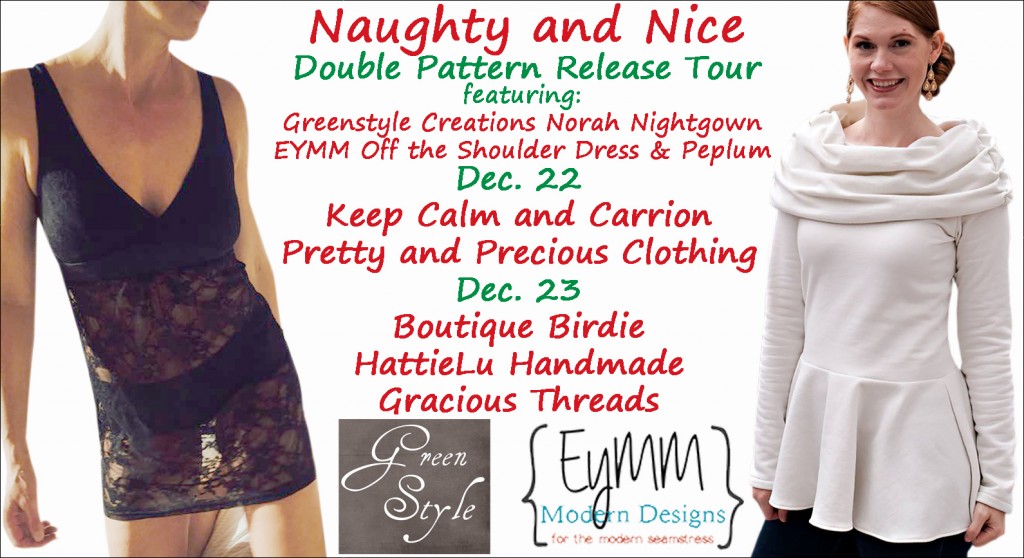 Since they won't be available until tomorrow, I thought I'd include a little about each pattern so you can start planning your own now. They both go together fairly quickly, so are great for some last-minute self-care sewing (you know, once all those procrastinated gifts are sewn, haha).
The Norah Nightgown and Panties by Greenstyle Creations is a three piece set designed for stretch knits. The nightgown bodice features a crossover or centered front and the cups have both gathering and darts as options. The nightgown has two lengths as well; a shorter sassy length or a longer mid-thigh length. The thong panties have both a high rise and low rise option as well. All pieces can be finished with lingerie elastic, fold over elastic or stretch lace. A perfect everyday set and the crossover bodice also works perfectly for breastfeeding. The nightgown set comes in 8 sizes, from XXS  to 3XL.
The Off The Shoulder Dress & Peplum Top by EYMM is a simple and modern top and dress with an inviting neckline finish. The upper and mid sleeves are fitted, with a looser, open wrist and a longer length. Unlike many cowls that have unfinished edges, this cowl neck is completely finished. The simple tucks added to the cowl keep the distinctive drape lines, whether you're sitting in one place or moving around. The dress has 2 lengths, 2 sleeve lengths and 2 bodice length options, plus the peplum top looks great with jeans or slacks. You can use a variety of knit fabrics from cotton lycra jersey knits to warm sweater knits for the bodice and skirt. You can also use a large variety of woven fabrics for the gathered skirt option. Dress it up or down with different fabric types and colors. The women's version comes in 10 sizes from misses XS to plus size 5X.
Check out all five stops over the next two days to garner some fabulous inspiration for these two new patterns.
12/22
12/23
Maybe you're still looking for the perfect holiday party dress for yourself? Or maybe a Norah Nightgown in just your size is what should land in your husband's Christmas stocking? (*wink, wink*) lol
Happy Sewing!!  ~  Joelle