Kenzie wore it this weekend and 5 months later we still love this dress!  I will say I am a bit biased because I adore the dress AND the girl, lol.  The last month the question 'what are you using to make an Easter dress?' or flower girl dress, or other semi formal and formal spring wear has come up online a lot.  Either I, or one of my customers, recommends Kenzie's Party Dress & Skirt because there are so many possibilities depending which option you make and your fabric choices.  That being said all the ruffles look quite intimidating so I decided why not have a blog tour where others could share honest reviews, tips as well as their unique twists to this adorable pattern!  Plus I know some of my readers love matchy matchy sibling outfits or have younger girls around age 6-8 who need tween sized dresses that are still age appropriate so the 2 size ranges (Newborn-4T & 5-18 Tween) have you covered.
The response from my first reviewer was 'wow, that was so much faster then I was expecting', and I have got to tell you, it's stunning!  So follow us for the next week as we bring you plenty of inspiration to help you design your very own Kenzie's Party Dress!
Want to get your own copy of Kenzie's Party Dress & Skirt?  Now until 2/24 use the code "kpdblogtour" on a Kenzie's Party Dress order of $8.95 or more from www.eymm.com & get $1.95 off.  This makes individual patterns just $7 & the bundle with both size ranges AND the bonus doll add on just $12.47.  Limit 1 coupon per person.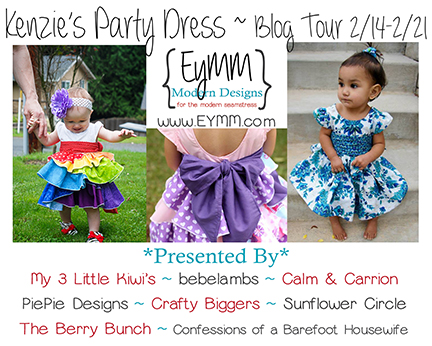 2/14 The 3 Little Kiwi's
2/15 Calm & Carrion
2/16  Confessions of a Barefoot Housewife
2/17 PiePie Designs
2/18 bebelambs
2/19 Crafty Biggers
2/20 The Berry Bunch
2/21 Sunflower Circle