I can't believe it is already here???  Today my surprise baby girl Kenzie Rae turned 1!  Unfortunately I seriously messed up both my knees over 2 weeks ago running in bad shoes :(.  I wasn't able to do nearly as much as I wanted for her party because I really couldn't walk with out strong meds until the day before the party.  That being said Saturday night & Sunday morning I worked on and finished her birthday dress based on my 'Over the rainbow inspiration' sketch.
I was good & made paper pattern pieces as I went in hopes of getting around to creating a pattern for it soon.  Enough chat time for some pictures!
This was the original idea or inspiration sketch!  I was inspired by the skirt on this dress by Paradin' Around Boutique.  She used random layers of curves between regular layers.  I decided why not do ALL random curved layers and a more classic bodice with a twist (the back is stunning, pics coming soon). I did skip the bottom ruffle, switched out the bodice color & put the bow on the back instead compared to my original sketch, but otherwise I think I got what I was aiming for!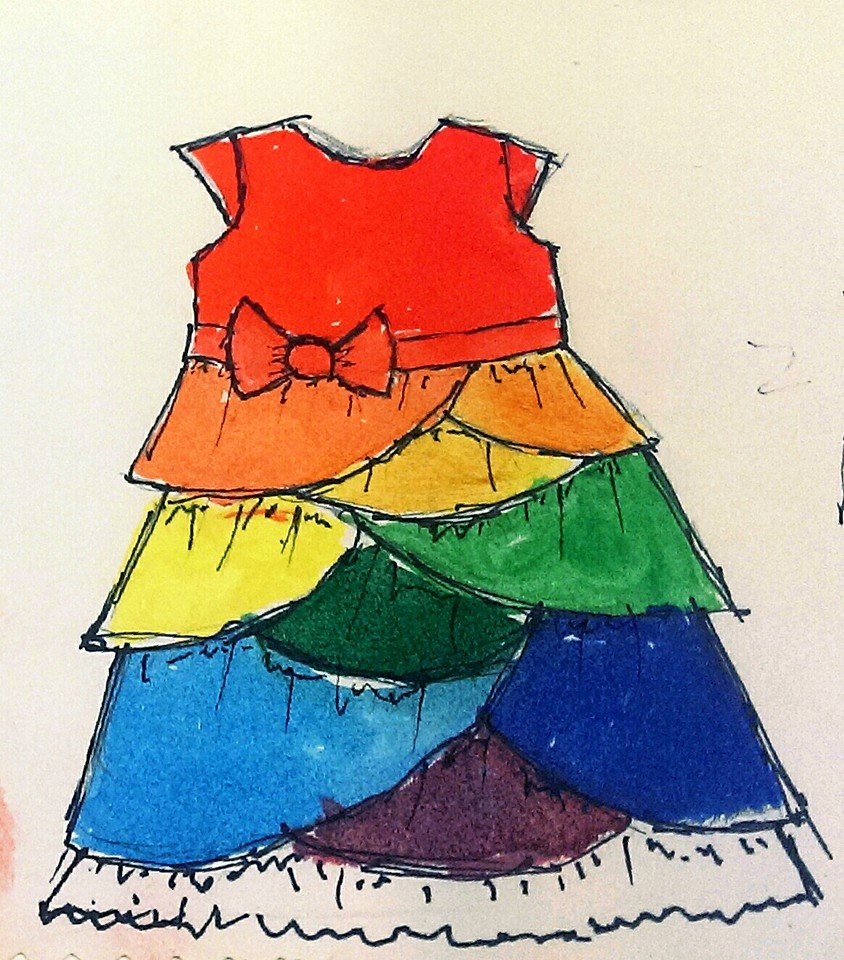 These aren't the best quality pictures but I was working around a walking 1 year old & a photo bombing 2 year old and rain, lol.  I hope to get more pics including the scooped back & sash bow.
Unfortunately most of the people who planned on coming to the party got sick (3rd week of school is a bad time for parties!)  so it was small but nice.  I didn't get any real decorations done but I did make her a big rainbow cupcake with lots of white fluffy frosting & rainbow sprinkles!  She dove in so fast she actually got a tiny burn on her face from the hot wax!