Simplicity 5403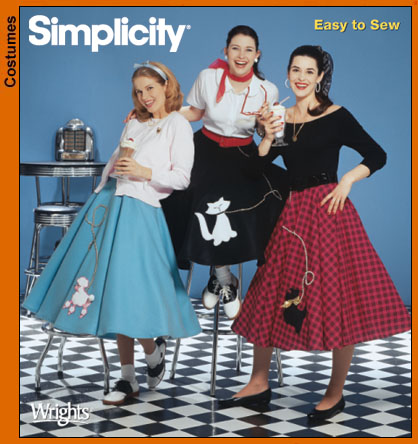 No pictures of the finished skirt unfortunately, but I felt strongly enough about this pattern to do a review.
Pattern Description:
Misses Poodle Circle Skirt
Pattern Sizing:
6-12
Did it look like the photo/drawing on the pattern envelope once you were done sewing with it?
Yes
Were the instructions easy to follow?
Yes
What did you particularly like or dislike about the pattern?
The sizing was way off, at least on the size 12!!! Like another review I read I found the waistband piece says cut 1 but is 4″ to short! It would have made the waist only 26″ when the size 12 waist measurement is 30″. Luckily I measured the waistband before hand because I have issues with sizing on most of the Simplicity patterns (often times too much ease = too big) so I was able to cut it larger with out wasting time & fabric. I also had to cut the top of the skirt down 1/4″.
I prefer an invisible zipper for items like this & think they are easier.
Hemming circle skirts SUCKS! And felt is too thick to hem nicely… if using the felt the pattern calls for I would just leave it cut nicely instead.
Fabric Used:
Black Cotton Blend for the skirt, felt for the applique
Pattern alterations or any design changes you made:
Just like I pointed out before, the sizing was off so I had to rework the waistband. Also I find using felt for the applique MUCH nicer. You can't use iron on interfacing but it is easy to pin down & sew around 1/8″ from the edge.
Would you sew it again? Would you recommend it to others?
NO, I would recommend using a free circle skirt tutorial from online & just make it tea length. It is a simple project & though the appliques are cute I don't think it is worth buying the pattern because of the sizing issue. I see someone who is new to patterns being very discouraged by this.
Conclusion:
I used this pattern because my aunt needed a poodle skirt for a Halloween dance she was attending. It was only .99 on sale at JoAnn's & I figured for .99 it was easier then taking the time to make my own circle skirt pieces. WRONG! After correcting the sizing issues it took me longer than doing it all from scratch (it is just a tea length circle skirt) though it was still a quick project, maybe 2 hours total with the resizing? I choose to use a lighter fabric instead of felt so it would have more movement for her & it was also easier to hem then the felt.