Well I couldn't post about this before because my cousin checks out my blog from time to time & I wanted it to be a surprise!  It has been very exciting to be pregnant with her this time as we are due just 11 days apart.  Anyway this weekend was her baby shower and though I bought a few cute things for her little girl I wanted to make something special too.
I know my cousin LOVES minky & is doing a black/white/light pink color theme for the nursery so I just happened to have the perfect fabric on hand to make a nice soft warm baby blanket!  I used light pink minky dot on one side & a cute snuggle flannel that was pre-washed for the other.  I just cut it 32″X40″ & turned and top-stitched it.  I even put a nice soft tag on it & my corners turned out very nice.  This is why it is important to clip the corners… it makes a big difference in the look of the finished product.  Also when sewing with minky or any stretchy fabric PIN PIN PIN.  I am normally pretty lazy & skip pinning, but it also makes a world of a difference on how the finished product looks.
Anyway here is a picture of the finished blanket before I packed it up.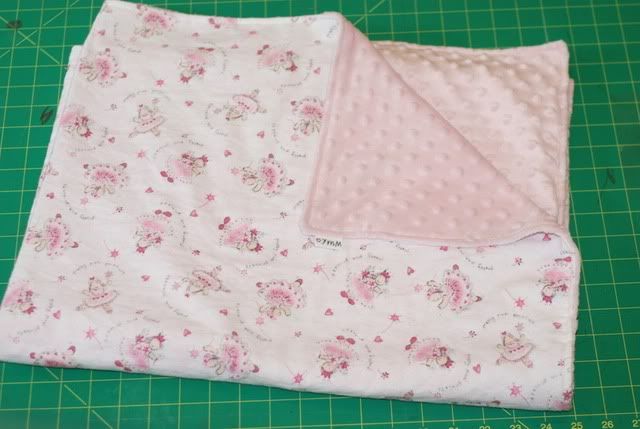 And as a bonus here is a belly shot picture of my cousin (due 2/14), me (due 2/3) & my sister (due 1/15).