I just could resist buying the Megan Peasant Dress/Top on YouCanMakeThis.com last week.  It's a great deal & comes in womens sizes 0-3x AND it has 3 different bodice lengths in each size to accommodate A-C cups, D-DD/E cups & a 3 for larger cup sizes or a more modest neck line.  You can also choose from a variety of sleeve & skirt lengths!
I made a size S with the middle bodice length.  Next time I will probably make the next size up.  It went together pretty easily thanks to the fact that CarlaC is the one who wrote the directions & included great hem templates!  The only 2 things I noticed… the bodice gets longer for bigger boobs(I'm an H/I) but the waist doesn't so it barely gets on, but again I am much larger then a DD!  Also cut your elastic at LEAST 3″ longer & test & then sew & cut it… I have tiny arms & added 1″ and it was barely enough.  Finally I cut my skirt carefully with my rotary cutter… used the template & it ended up about an inch to wide to match up with the bodice.  This may have been my error but I wanted to mention it!
I also added a contrasting sash to break it up!  At first it was to long… so I looked in the mirror & check & pinned… well even with only 1/2″ hem it seamed to get much shorter then I expected!  I still think it will be a cute summer dress.  I just feel weird being a mom & wearing something this short! I can still do stuff with out showing anything so I know it's not to short like that… I guess I just feel older then I am sometimes!  That's what being a mom can do. lol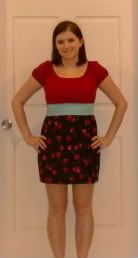 The dress used up 3 yards of fabric!  Next time I will probably be able to make it out of a little less since I have a better idea of the actual length I want.