So one of my best friends from high school, Morgan, is up to visit for a few weeks & we had fun visiting today!  As with most mamas, her body has changed a lot in the last 10 years! She had this dress she made when we were sophomores I think? Anyways the fabric fit her personality very well!  Since it was a long dress she decided to make a new more stylish dress from it.
Here is the original dress…

She choose Simplicity 3529 from the Project Runway line of patterns… well nursing & now being a very busty mama it didn't turn out the way she had planned it in her head. Take it she had a bad bra on in the pic, but it looks more like a bad mu-mu. She is Mormon & wanted something modest, but even she couldn't handle that neckline. Add that to having a big bust & no shape to the dress… a big fat F!
She asked a while back if anyone had advice, she knew it could be saved, she just couldn't think of what to do with it! I gave her some tips, but when she found out she was coming up she decided to just bring it with her! She didn't bring the pattern, so I'm not sure why the neckline was so high, it didn't look like that in on the cover, but that's okay, because I had lots of ideas!
Anyways after having her try it on over & over so I could think, pin, chalk & eventually just start cutting I was able to make some adjustments to make something that she feels younger & better in & makes her look like she lost at LEAST 20lbs after seeing her in the mu-mu version!  It's amazing at what fit can do for you!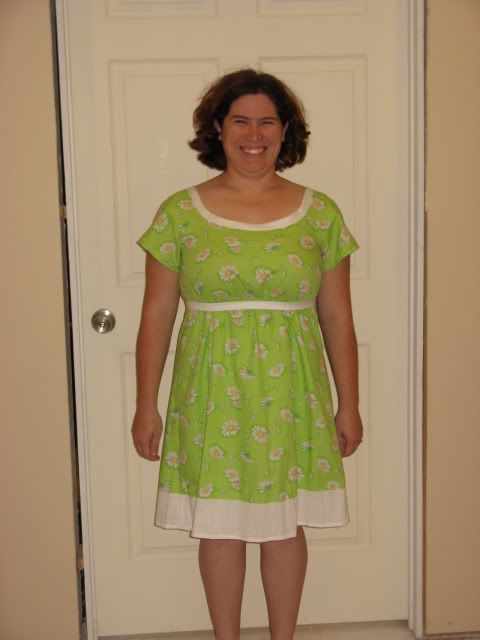 She had already removed the thick white round neckline that was way to small before she came over.  After fighting with my vintage 201 Singer (that by the way started working perfect again after she left!) I took the back in a little bit (about 1″) and then I had her try it on & using my chalk eyed where I thought the neckline would look best. Then I cut it & put 1″ bias tape on it. The funny thing is the shape of the neckline now is almost identical to the original dress!
After that I marked right below her bust & used some elastic on the front & a zig-zag stitch to attach it creating an empire waist… and well simply a WAIST for that matter! Then for the pictures she is wearing a 1″ sash made of the bias tape… she is making a 2″ one that will tying it together with a bottom trim a little better with the 4″ bottom hem she just needs to pre-wash the fabric.
It is now a flattering on her new mama made body. The best part is if she looses weight she can still wear it, the magic of the empire waist & sash!  And if she gets pregnant again in the future she can still wear it for at least the first few months!
I hope we get to sew some more while she is up, I miss hanging out with her!!!