Well it's been a week since I posted & things have been crazy around here!  I traced the pattern for 'The Dress' take 2!  I have also been unpacking all my sewing & craft stuff into my new sewing room 🙂  It's going slow, but I am taking care of everything properly… I don't want random tubs of junk sitting in the corner, cause it will likely stay there!
On top of that I have had the mess of the rest of the house!  When B moved the couches, tv & his office stuff  into the new family room & office the rest of the house looked ransacked/abandoned.  Plus to top it off Zander's closet still hadn't been painted so his room was a mess & his laundry couldn't be taken care of.   Well I finally managed to get a hand on most of it yesterday!  Well that is everything except taking care of the laundry! lol
My friend Amber came over last night & kept me company & helped a bit as I was going through & getting rid of stuff.  She ended up with lots of random stuff from a box of duplicate spices & baking things I found in the pantry, an espresso maker, 2 handset cordless phone I got at a garage sale for $2 & our audio/media tower from when we had a projection tv.  I also have a garbage bag full off stuff for the thrift store too!
Not only did I de-clutter/deep clean, but I moved stuff around too :).  The main living area of the house is a little cramped… there is a dining room right off the kitchen, but it is small & you have to walk through it to get to the kitchen.  Then there is living room… it is large but a little overly long.  So when we moved the couch set & big TV up to the living room we decided to move the play area over to the wall in the dining room.  Then we used a futon to divide the large living room into 2 separate areas… so on one side we have the futon we have the glider & ottoman & a small TV with the kids vtech games & a DVD/VCR player for them to watch movies.  On the other side we have the new dining area.
After all that yesterday today my teenage cousin came to visit & play with the kiddos well I dealt with the 10+ loads of laundry PLUS I took all of Zander's clothes out of his room & sorted through them pulling out the stuff that he does need/fit anymore & hanging all the next size up in the closet that way in 3 or 4 months when he has a growth spurt were ready :).    I still need to go through the girls clothes putting away most of the summer stuff for the spring SNOMOMS sale & pull out all their fall clothes for school that starts in a few weeks!
What does 10+ loads of laundry look like… in case you want to know it looks like this…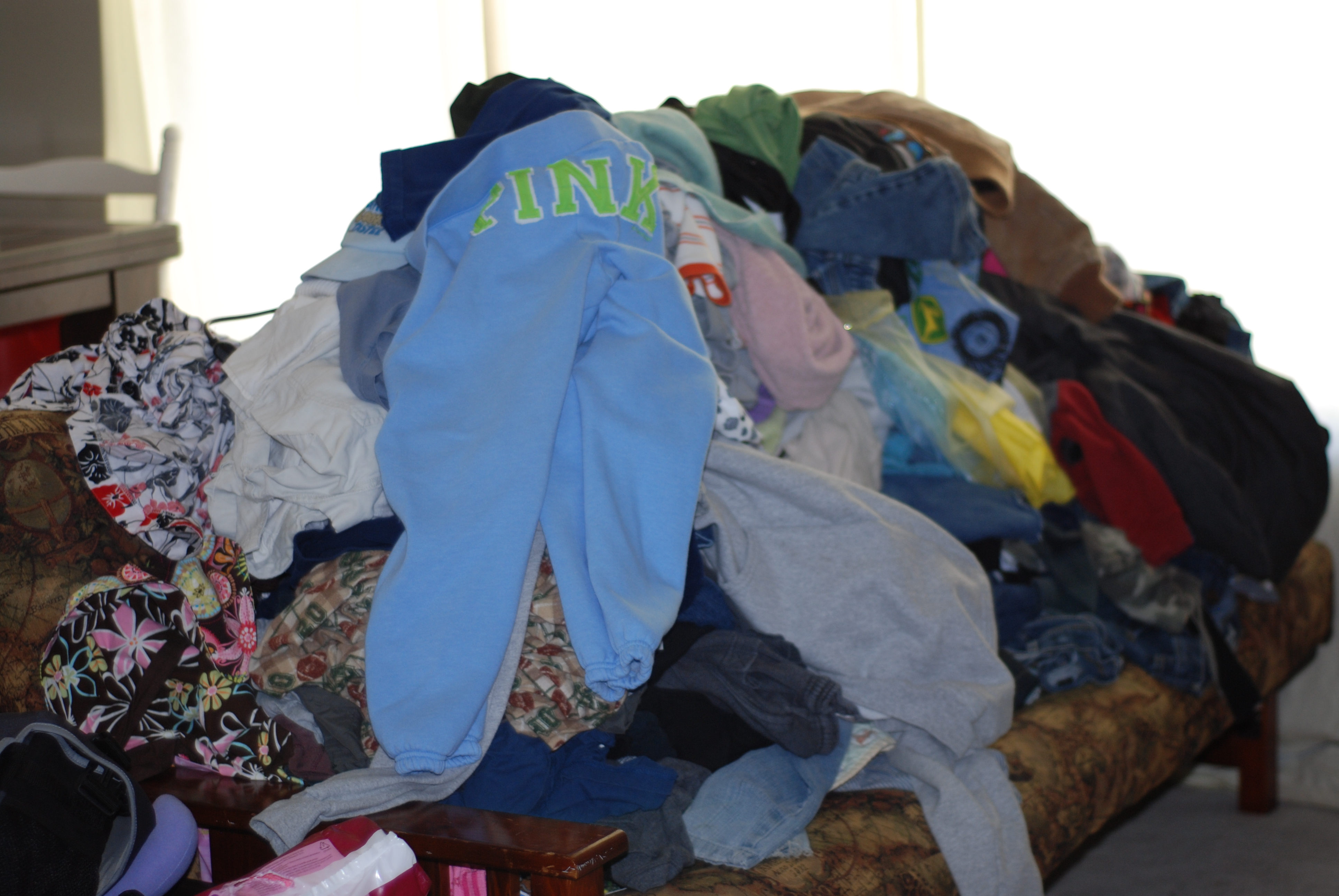 Now that both the living areas are clean without any extra random junk floating around I need to tackle the kiddo's bedrooms AND I need to go through my clothes.   Though I cleaned it out this spring after the first 25lbs I lost I have lost another 11… & still have 4 more to go!  Anyways I have a few more sizes that need to go :).  If anyone is interested in buying some nice size 6's & 7's jeans send me a comment & I will email you.  They are nearly all name brand & styles from the last few years.
Time to relax for the night & get back to it.  I gotta get this all done so I can finish getting ready for the stash game 🙂