If you read my blog often you know that a while back when I announced that I was engaged I also announced that I had found 'The Dress'.  Well I finally got around to tracing the pattern & making a muslin & Vogue 2962 is just not 'The Dress' for me!!!!  Don't get me wrong I LOVE the dress… just the tops just doesn't work for me.  I found a smaller size of the pattern & decided to make a 10 & up size the bodice if need be, because I had been warned the chest area was very full… well considering the envelope says a size 10 is a 32.5″ bust my 39″ bust fit in it with room to spare!   That being said the pattern pieces them self said the bust was 38″ NOT the 32.5″ the chart goes by & the waist 27″ NOT the 26″ the chart states… & I found that to be the correct sizing.
Anyways I modified the bodice without issue &  modified the bust as well so it would be a little deeper cut… I can't imagine how high it would have been had I not! But it's just not it… the cotton muslin I am using it thin… the silk is stiff & will emphasize it even more… & the last thing I need is my boobs looking even BIGGER!  I am sure if I kept modifying I could get it where I want, but I just don't think it's worth it!
Because I know people will ask here's a pic…  I know it couldn't be worst… but I'm moving on!  This is why you never cut into the good stuff first!  So now I have 6 yard of ivory silk to make a dress with… time to search for more dresses!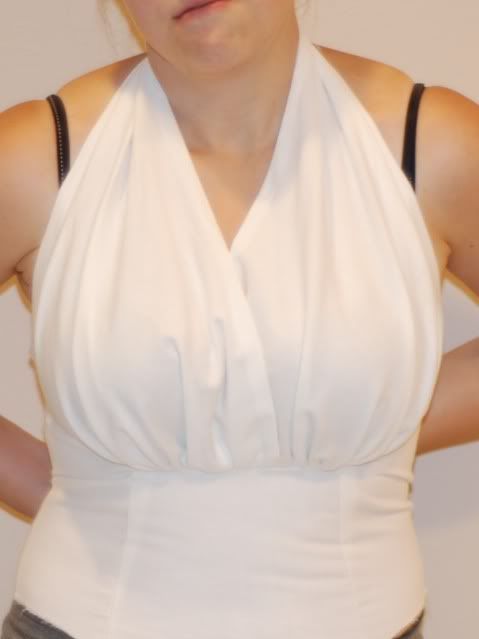 That being said I have an idea to reuse the muslin for something cute… we'll see how it turns out!