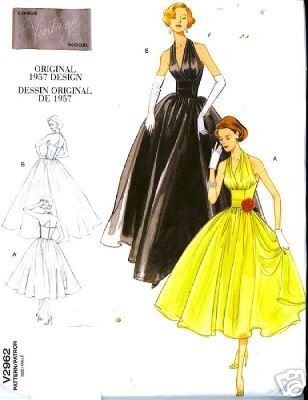 B & I both agreed that everything is going to be small and simple for our wedding & reception.  I am excited because I can do all the fun stuff with much less stress & WAY less money (had a wedding with 160+ people for my first marriage). I think I am still on kind of a high because of the excitement of it really happening, but I have found 'the dress' though I was irked that I had to pay $15 plus shipping for the 12-18 size (which is the vintage sizing) when the 4-10 ones were only $8-$9! Anyways it's okay because I love it & that's all that matters and considering how expensive formal wear is, it's worth the investment! I am thinking of a light cream or white matte type dress fabric.  Lucky me, I just got the JoAnn's sale flyer & their 'house' brand of special occasions fabric is on sale for $4.99 a yard right now!
I am barely 5'3″ so I am also torn on the length of the dress, but I think I will make it floor length for the ceremony & sew in snaps on the wrong side of the hem & inside of the waist, that way afterward I can take my petti off & snap it up like a bubble skirt?  I love the tea length especially for a less formal wedding, but I am afraid of that length on my being so short.
I have an amazing friend that as soon as she heard she offered to make me a flower for the dress with a matching head piece & possibly jewelry… I am SUPER excited because she makes the MOST amazing stuff!
Anyways I plan on making a muslin or 2 of the bodice to make sure I can get the fit right… that's always a challenge when sewing for myself!
Anyways the pattern is Vogue V2962, which is a reprint of an original Vogue pattern from 1957.
I found a photo of one in black on flickr… she did a review on www.patternreviews.com & said she made a 12 but had to take the waist in, but I think the bust is a little big for her still (funny thing she looks just like my friend who is making the stuff for me!) I figure being busty I can gather it a hair more so they over lap a little less & it is cut a little deeper to show just a little 'classy cleavage'.
Here's another picture of the dress from the Vogue website in a more casual fabric & tea length .
When looking for 'the dress' pattern I realized I really LOVE the clothes from the 50's, I may have found a new love!  Don't be suprised if you see me sewing up more 50's dresses… now I just need a reason to wear all of them.