Wow what a crazy couple of weeks I have had! It's been quite the roller coaster to say the least. I told you there was a lot of exciting stuff going on & I finally have time to sit & blog about it!
To start out I have been working on organizing a neighborhood garage sale & getting everything ready for it. If that wasn't enough, at the a few Monday's ago I came home to a great email with the subject line: Media Request: Article for AOL. It took me a few days to realize that it really was exactly what it said! Judi Ketteler a freelance writer who does some work from AOL & other popular magazines like Better Homes & Gardens. She also has an exciting book 'Sew Retro: 25 Vintage- Inspired Projects for the Modern Girl' that should be coming out next spring! She is working on a piece for AOL's home & garden DIY section about moms who sew & craft for a variety of reasons. Anyways she had stumbled across my blog & when she found out about the article she contacted me because she wanted me to be one of the featured ladies for the article!
Remember the roller coaster comment? Well after I got her all the info for the interview I needed to get pictures of the kids in something I had made… SO I decided to make some dresses that I have been planning on for a while. BUT as my luck ALWAYS is when I have a deadline NOTHING goes right. I LOVE little girls in white muslin sun dresses!!! And since the girls don't have any that fit I decided to make them matching ones from one of my favorite patterns from You Can Make This, the Strappy Sundress. WELL after getting everything washed, ironed (have I mentioned I HATE ironing), cut & pinned. Take everything over to my expensive Bernina sewing machine, put the first top under the pressure foot, lowered it down & stepped on it… just for it to go backwards! My backstitch button feels loose, so its probably something stupid but I am afraid to take it apart myself, so it will need to be brought in to be fixed & serviced.
None the less the dresses have not been finished because my 1951 Singer 201 that sews like a dream is buried under stuff because I wasn't planning on using it until after my new sewing room is finished. To top it off the only outfits I have finished since the twins had a growth spurt are their birthday flower fairy dresses and I can't manage to get a good picture of the 2 of them. SO I sent Judy a variety of my favorite pictures of all 3 of the kids in mama made clothes & I will just have to wait & see what her editor picks!
So in the midst of all that frustration, excitement & disappointment I had to have a garage sale. Of course after at least 6 Saturdays of nice weather mother nature decides I need to try out this new garage we have and that just helped make everything even more hectic. Sadly it was probably one of my worst garage sales ever. I did still make $200 but that's half what I normally make. On the plus said the local thrift store I volunteer at got lots of nice donations!
After all that I took a nice Sunday to do nothing but RELAX. It's been a while & it was nice! Monday B & I went to town with out the kids which was also nice, but then yesterday we went back to town & picked up this 🙂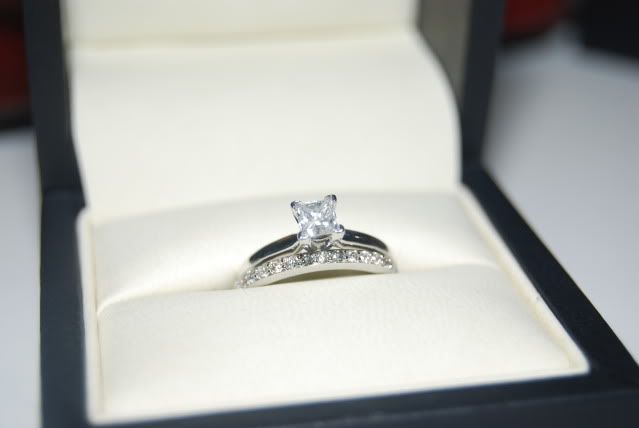 We have been talking about getting married now for a while, & a few months ago B asked me but he wanted to wait until we had a little more cash, and for my help picking it out, to get me a ring.  So when we were walking around the mall on Monday we figured what the heck, and decided to go look & try things on. Well thanks to the most AWESOME lady ever, Becky at the Lynnwood Fred Myers Jeweler, we were able to find the perfect set with in our price range with out any pressure, and she was just so nice!  Plus they were on sale at what worked out to be 43% off!  We would have gotten them that day but they had to resize it because apparently I wear a 5.5! It is going to take a while to get used to regularly wearing a ring again, but then I won't be able to imagine not wearing it! We don't plan on having a big wedding… I have been there & done that and have no desire to deal with that stress again. I look forward to having a nice VERY small ceremony & a nice fun, relaxed, BBQ reception at home afterward. Hopefully it will double as a kind of house warming party as well because the addition should be done by then.
So be prepared for lots of fun posts the next few months as the date is set for Sept. 7th and I plan on doing just about everything my self!
Well that has been my roller coaster, life changing, last couple of weeks, but I look forward to whats to come.