Well I know its been nearly 3 weeks since my last post, things have been a little hectic around here. I am focusing on getting the fabric cleaned up & getting prepared for the Feb SM stash game that is gonna have me sewing like mad! Anyways I am also focusing on eating better & losing weight. So last night I decided I wanted some chocolate. Just cause I am eating better doesn't mean that I can't have a treat right? Well last night I was playing with recipes & made the best baking mistake ever!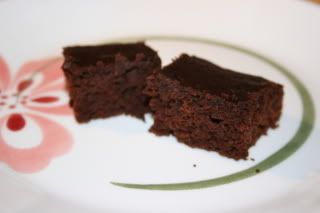 So I was looking for yummy 'health food' brownie recipes… I came upon a few… I was messing around with the ingredients & non the less I ended up with too much applesauce. My mistake is a YUMMY mistake for chocolate lovers! So instead of brownies we get super moist cake bites! Take it they are 1 WW point, but they are kinda small. It just means you can have a few! But they are full of flavor, Low cal, Low fat, Low carb & nearly sugar free!!! It doesn't get much better then that! I also like to put smuckers strawberry preserves with slepda on top, it only ads 10 more cals but is SO yummy! Well I hope that others can enjoy my baking mishaps! The recipe & nutrition info are below.
Fudgy Low-Fat Chocolate Cake Bites
2 tbsp – Margarine, Melted
1/2 cup – Cocoa, dry powder, unsweetened
1 cup – Splenda,
1 large – Egg,
3/4 cup – Applesauce, unsweetened,
2 tbsp – Vanilla Extract,
2/3 cup – All-Purpose Flour,
1/4 tsp – Baking Soda,
1/4 tsp – Salt,
Optional
Smuckers Sugar Free Preserves with Splenda (+ 10 cals)
Directions
1. Preheat overn to 350 degrees F.
2. Spray 8″ sqaure pan with nonstick cooking spray.
3. Dust with Coca, shaking out excess back into bowl.
4. Mix margarine, sugar, egg, applesauce & vanilla in a bowl, beating until smooth.
5. In a seperate bowl sift flour, cocoa, baking soda & salt, then mix until well combined.
6. Mix wet & dry ingredients until well combined
7. Pour into pan & bake 25-30 minutes until set. Cool completely & cut into 16 sqaures & enjoy! Only 1 WW point each.
8. Optional- spread Sugar Free Preserves with Splenda on top for a yummy fruity topping!
Number of Servings: 16
Recipe submitted by SparkPeople user KYMY02.
Number of Servings: 16
Fudgy Low-Fat Chocolate Cake Bites
Serving Size: 1 serving
Amount Per Serving
Calories 53.7
Total Fat 1.9 g
Sodium 73.1 mg
Potassium 63.1 mg
Total Carbohydrate 8.4 g
Dietary Fiber 1.2 g
Sugars 1.4 g
Protein 1.4 g