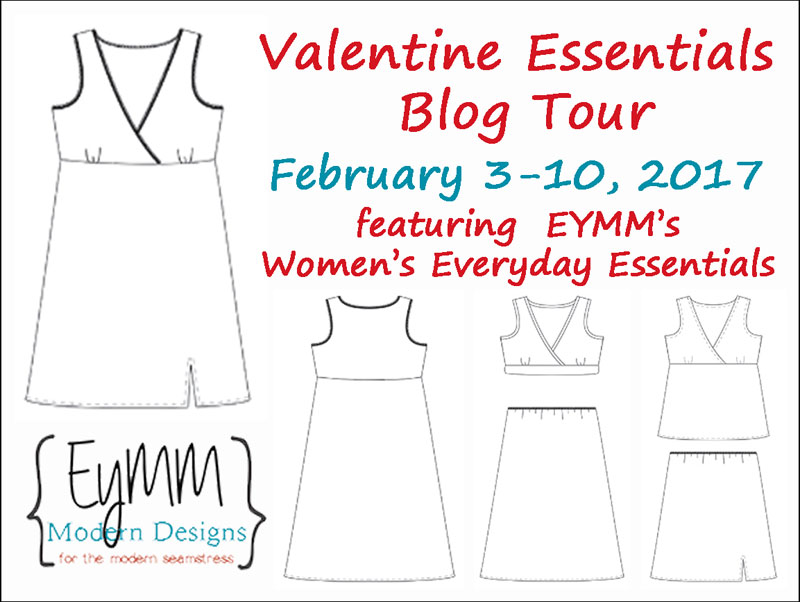 I get to join in for Day 2 of the Valentine Essentials Tour and was excited to sew up a new Women's Everyday Essentials nightgown (don't miss the 50% off coupon at the end of this post)! I decided to use this galaxy print performance knit from JoAnn to make a nightie that would be out of this world … ha, ha, ha!
As per my measurements, I made a size 2x with the full cup bodice option. There is also an average cup and small cup option, which translates to 3 separate bodices in each of the 10 sizes included in the pattern … yay for not needing to do a full (or small) bust adjustment!! I chose to make the above the knee length of the nightgown, but I shortened it by a few inches since I don't like anything twisting around my legs when I sleep.
The only other change I made was to follow the pattern's included modification for more modest coverage. I did this by eliminating the underbust gathers and overlapping the crossover more. I don't think hubby will mind since the neckline is still plenty deep compared to my usual bedtime attire of an old t-shirt. LOL
The hardest part of this blog post for me (besides hitting "publish" and making it public, haha) was taking the photos. My husband isn't very handy with the camera and I wasn't sure my 9-year-old (my usual "go to" photographer) was up for the task of taking pictures of her mom in a nightie. Thank goodness my camera has the option to run it remotely from my cell phone! I ended up setting up my umbrella lights in my bedroom and propping my camera atop my dresser's mirror. Not perfect … but it worked! 😉
Happy Sewing!!  ~  Joelle
P.S. Make sure to visit all the stops on the Valentine Essentials Blog Tour this week! (Keep in mind that the links below won't work until their scheduled date, but feel free to click through and check out their other blog posts anytime.)
Feb. 3 – Sewing by Ti
Feb. 4 – Joelle at EYMM
Feb. 5 – Embrace Everyday
Feb. 6 – Sprouting JubeJube and Capture, Craft, and Cook
Feb. 7 – Call Ajaire and Blessed x Five
Feb. 8 – Rebel & Malice and Sew Haute Blog
Feb. 9 – Kelly's Sewing Creations and Sew Far North
Feb. 10 – Roundup at EYMM
During the tour, the Everyday Essentials pattern is on sale for half off! Use code VDAYTOUR on the EYMM site to save 50% on the Women's Everyday Essentials pattern until February 12 at 11:59pm PST.