Can you believe that February is already upon us? I'm not sure how January disappeared so fast, but at least that means that Spring (and warmer weather) is a little closer! Know what else is coming up fast? Valentine's Day! And guess what!?! We have a great line up of ladies who are showcasing the Women's Everyday Essentials pattern in preparation for the romantic holiday. Plus, the pattern is on sale during the blog tour in case you're inspired to sew your own … read all the way to the end to get the coupon code!!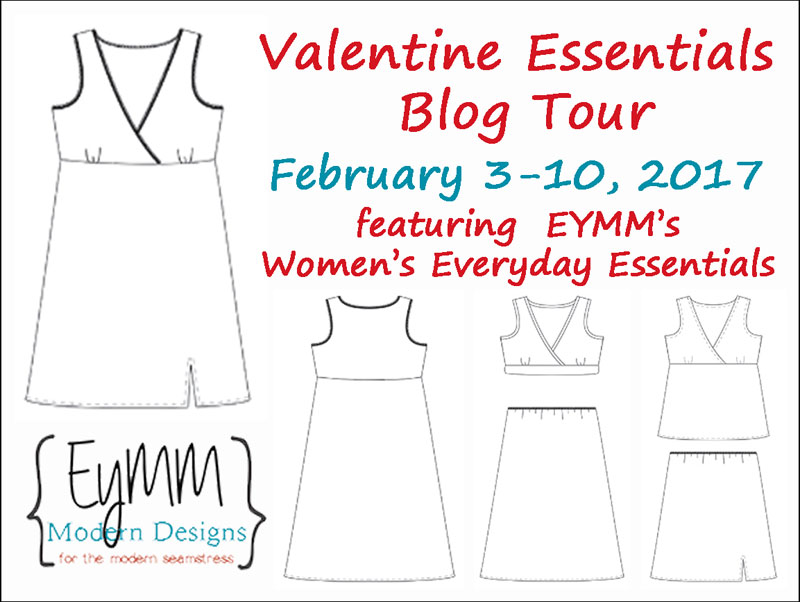 For Day 1 of the Valentine Essentials Tour, Tibeca at Sewing by Ti has sewn up a gorgeous animal print nightgown. Click the picture below to see more pictures and read the details!
Make sure to visit all the stops on the Valentine Essentials Blog Tour this week! (Keep in mind that the links below won't work until their scheduled date, but feel free to click through and check out their other blog posts anytime.)
Feb. 3 – Sewing by Ti
Feb. 4 – Joelle at EYMM
Feb. 5 – Embrace Everyday
Feb. 6 – Sprouting JubeJube and Capture, Craft, and Cook
Feb. 7 – Call Ajaire and Blessed x Five
Feb. 8 – Rebel & Malice and Sew Haute Blog
Feb. 9 – Kelly's Sewing Creations and Sew Far North
Feb. 10 – Roundup at EYMM
During the tour, the Everyday Essentials pattern is on sale for half off! Use code VDAYTOUR on the EYMM site to save 50% on the Women's Everyday Essentials pattern until February 12 at 11:59pm PST.