I can't believe it's been two weeks since Zander's Hoodie & Hooded Vest debuted as part of the Pattern Revolution Bundle Up Sale! Did you get it as part of your bundle? Have you made one yet for your son or daughter? I just made my first sleeved Zander's Hoodie and am so in love with the asymmetrical zipper!
I originally made a vest for my 1-year-old when the pattern was in testing, but my 3-year-old started begging for his own when he saw his baby brother's over-sized hood.
I let him pick his fabric and he insisted on this "water" print for the lining, which is a cotton woven rather than the knit the pattern calls for. Since I'd already made one, I thought that it would work without the stretch since it's not a closely-fitted body and hood.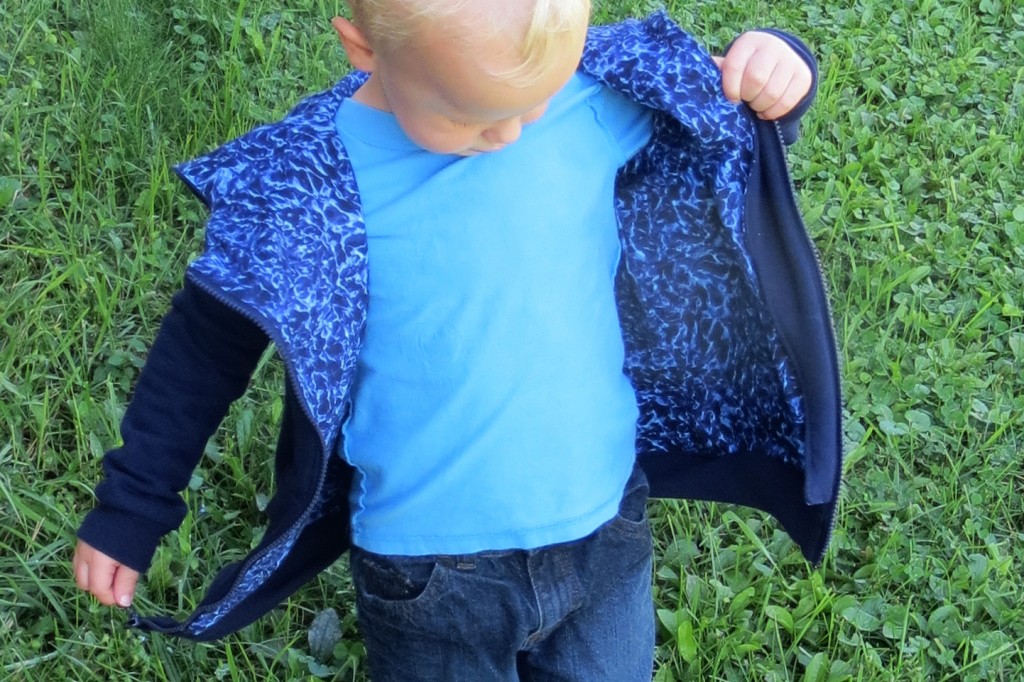 The outer pieces were cut from a huge men's sweatshirt that was in the "to upcycle" pile in my fabric stash. With some creative angling of the hooded pieces, I managed to get all of the size 4/5 pattern pieces cut from one sweatshirt (although, fyi, any bigger sizes would not have fit). I even re-used the ribbing for the bottom band and cuffs!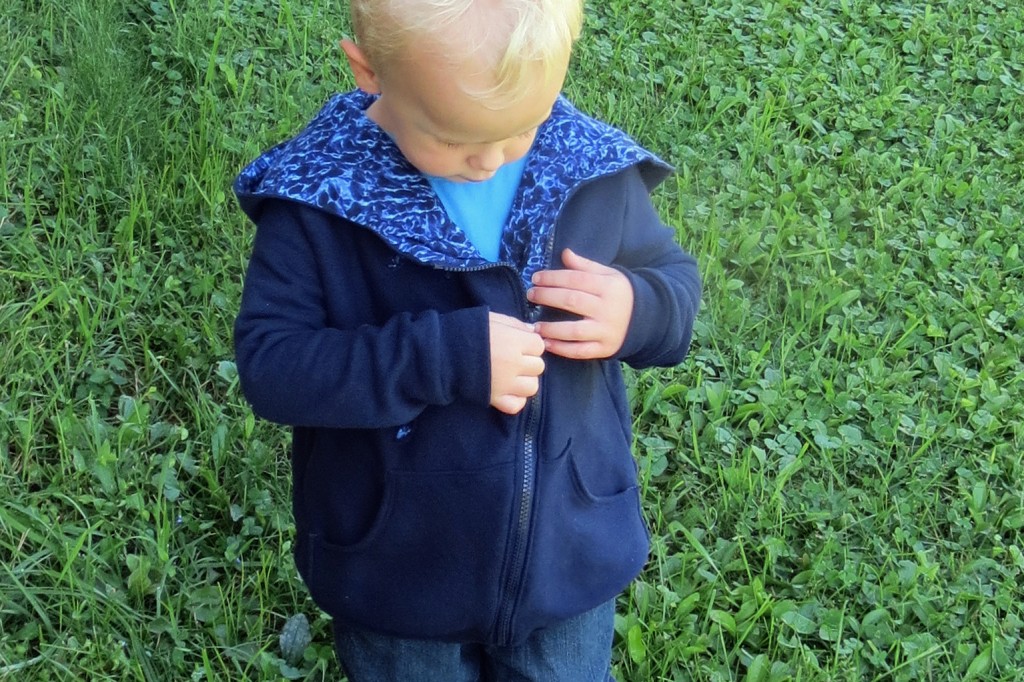 Once we'd picked fabric, I remembered the Boy's Silhouettes Reverse Applique Pack that was a bonus add-on to the Boy's Bundle Up Sale. I opened the pdf and let my boy pick one of the 20 designs included. He wanted the Turtle because it "matched his water fabric."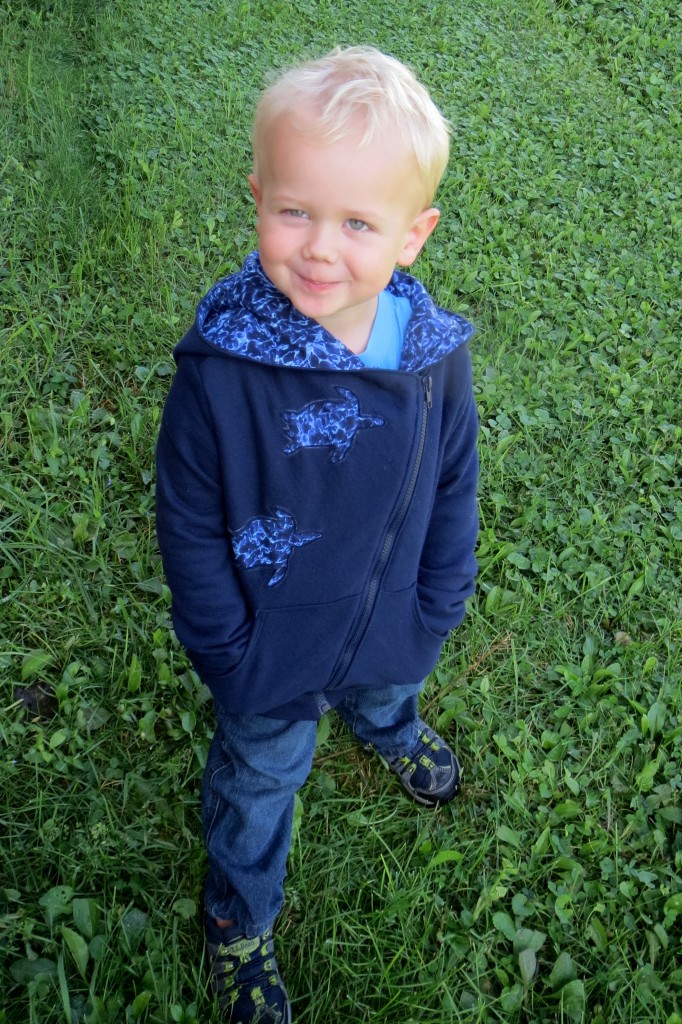 He insisted that he needed turtles on the back AND the front of his hoodie, so I had to re-size the silhouette. Rather than doing trial-and-error by printing it at multiple sizes, I chose to use Adobe Reader's zoom feature to make the turtle on my screen the size(s) I needed and then put a piece of paper over my laptop screen and traced the shape. It worked splendidly (and quickly) to shrink the turtle so I could fit two of them on the left front and one on the back.
I placed a big turtle low on the hoodie's back, so that it wouldn't be covered when (if?) my boy takes his hood off his head. My little boy LOVES his hoodie and tells everyone that he helped make it, since he chose the fabric and turtle. Plus, I got his Zander's Hoodie done just in time because yesterday's high temperature at my house was only 62*F. Yep, FALL has arrived in the Midwest!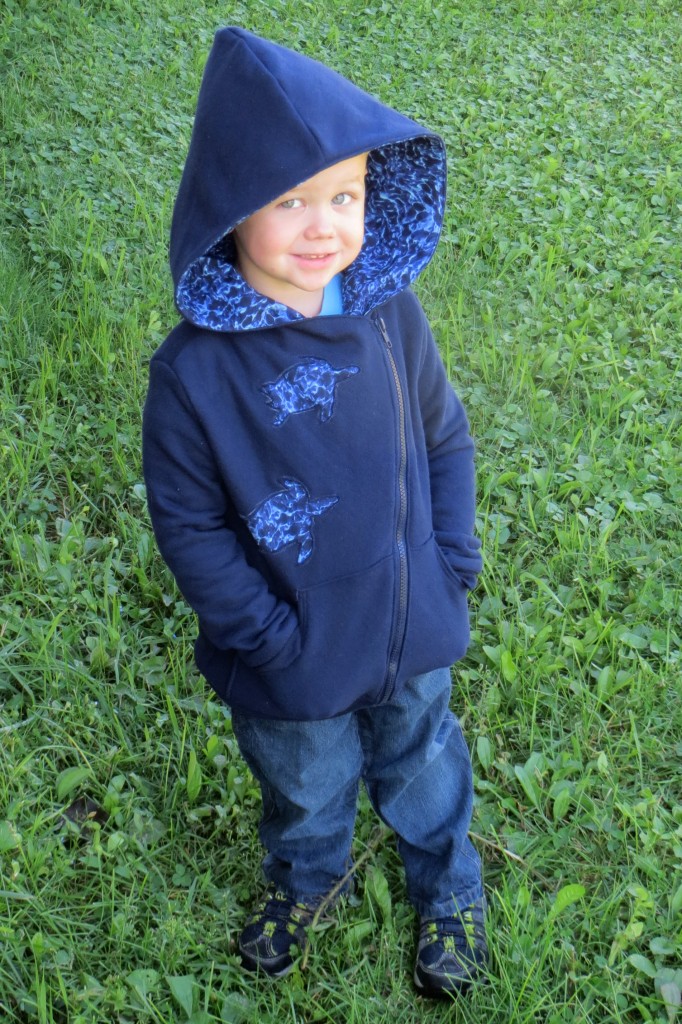 Zander's Hoodie & Hooded Vest and the Boy's Silhouettes Reverse Applique Pack will both be released in the EYMM shop on Wednesday, September 10, so you can get your own copies in case you missed the Bundle Up Sale. Plus, the adult-size His & Hers Asymmetrical Hoodie & Vest should be released from testing this week! I can't wait to make myself a hoodie, though I think I'm going to have a hard time looking this cute!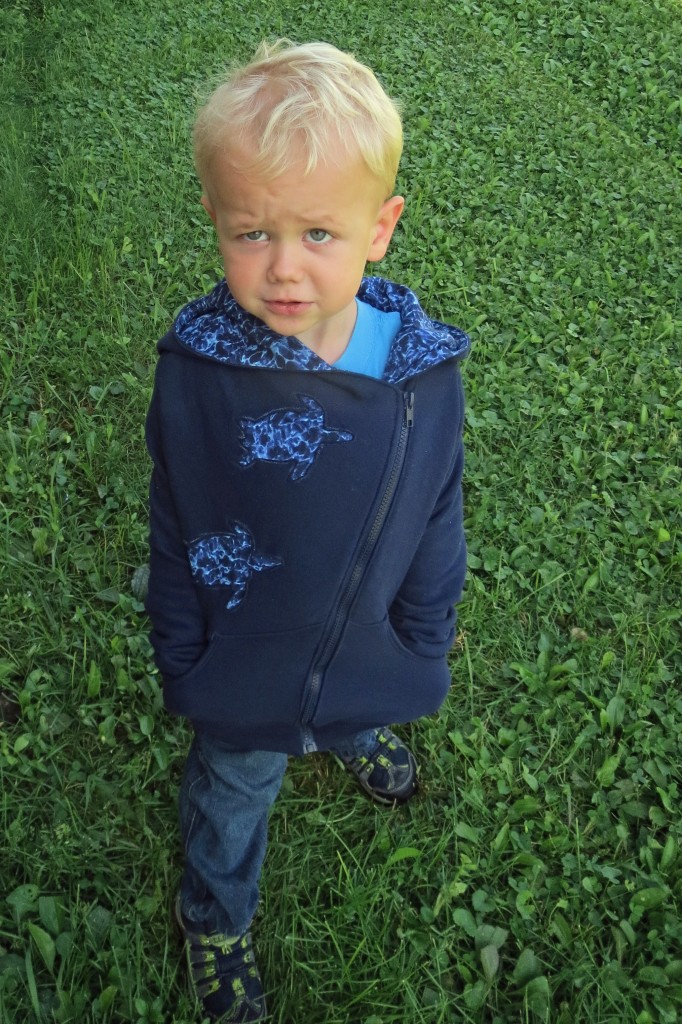 From September 15-22, EYMM is going to host a blog tour for Zander's Hoodie & Hooded Vest and the His & Hers Asymmetrical Hoodie & Vest. I'm going to include a "show us how you made it" link-up on the kick-off post, so get your machines fired up right away and stitch up a hoodie so you come show it off! If you don't have a blog, a Flickr link or any other photo-hosting site link will work (I've done that on other blog link-ups before I was Kymy's assistant). I can't wait to see how you all make this pattern to fit your own personal style!
Happy Sewing!!  ~ Joelle