When one of my fellow blogger and designers told me about this tour idea I jumped right on board!  One complaint we get at times is that the directions are too detailed (yes, we get that often).  Everyone is at a different level, those that are intermediate and advanced seamstresses, they are going to do it there way because they know how.  One of the great advantages of .pdf patterns and indie designers is we can write patterns OUR way.  It also gives beginners the confidence and support to jump in and give it a shot. It is rather sad to see just how judgmental people can be at times towards beginners of even someone who doesn't use heirloom techniques etc.   I'm not saying you should lie to someone who is already trying to sell stuff and not having luck and asking for advice, but to remember people have feelings, there is such a thing as tact and WE ALL START SOMEPLACE.
So today I am going to share a little about where I started.
I won't lie crafting is in my blood.  By age 8 one grandmother had taught me to crochet and the other to knit.  Growing up I watched both my grandmothers and mother create.  When ever I had a chance to grab a ball of yard or a piece of fabric I snatched it right up.  I did do basics as a child including sewing rice bags and shorts as well as how to thread and use a sewing machine, sew by hand and bead.  My Grandma Irene relied on her sewing to sell at markets though so I didn't really get to explore beyond that.
When I was 18 my ex husband got me a brand new Singer sewing machine… I made one not so square quilt and a Harry Potter cloak before I killed it.  On that note I do not recommend newer plastic Singers, I have killed 3 in less then 5 years, the vintage ones are awesome though!  A few years later he got me a basic Bernina Bernette (that I used up until last May and is now my spare and sews perfectly).  After I had my oldest son I started sewing the occasional baby pouch sling but it wasn't until 6.5 years ago after the twins were born that I finally really started to sew.  I tried my first tissue paper pattern ever… it turned out cute but WAY to big, lol. New Look 6688 Toddler Dress Pattern Review
I also started exploring with creating my own patterns with out a pattern.  This is the first real pattern I drafted 100% and has quite the story behind it.  This was back when e-book/.pdf patterns were very new and a few of my friends suggested I make it a pattern for sale because at the time there were not other round neck dress patterns unless you looked at vintage tissue patterns.  I posted to a forum asking what the ladies thought while many were very excited one wasn't so much and had some very discouraging comments about how it was nothing special and you could get lots of tissue patterns for .25 at the thrift shop, so I decided to pass.
Well 2 months later guess what she released in her pattern shop for $7.95?  Yep, a nearly identical dress that was a HUGE hit at the time and made her a lot of money.  To be honest that experience discouraged me for a long time.  BUT obviously I finally over came that last year and I look at the time I waited as the time I used to expand my skills.  I will be honest I had good skills and people would have liked it but I didn't have the types of skills I needed to really produce quality patterns.  Two of a kind dresses 🙂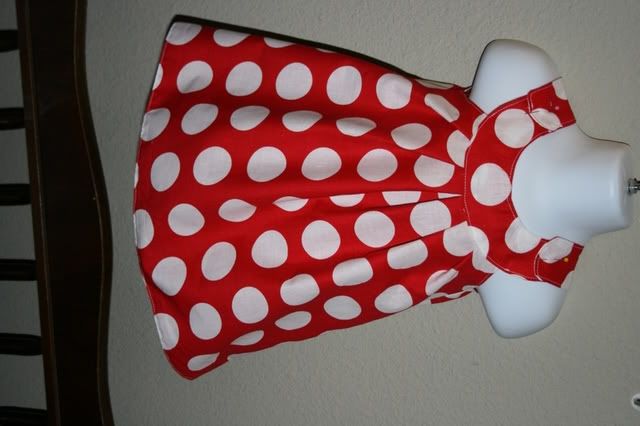 One of the things I wanted to talk about is that we all start somewhere!  This red dot version may have nicely turned and pressed curves but if you look at the top stitching on the yoke, while not bad, it's also not quite straight either.  Then there is there is the muslin version I did first… My first drafted pattern! Mini Boden style retro baby dress!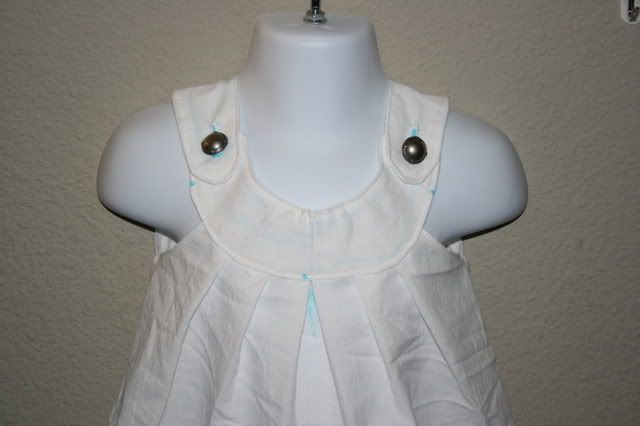 The yoke curves aren't turned as nicely, they aren't pointy but they aren't nice and round either and my button holes aren't quite even.  Even now 6 years latter guess what… I still have stuff that just doesn't turn out!  But I everyone has to start somewhere!  So don't get discouraged, set mini goals that matter to YOU.
The more you sew the better you will get.  You know what?  I ENJOY gathering by hand, sewing button holes and doing a proper finished hem.  Yep your read that right… I like doing those things!  I enjoy the challenge, knowing I can do it and seeing just how far I have come.
Pictures like these will keep me at my machines for years to come…
I sew because I enjoy it, I love fabric and I love creating.  The look of pure joy on my 5 kids faces when they see something I made is enough to keep me happy no matter what other people thing!  Next thing you know you will be looking at stuff and thinking, wow, did I really do that?  Being able to see something we love, but cant justify the cost, and being able to go home and make something inspired by it is amazing.  I can't tell you the joy I felt when I got asked in the store if I bought or made a very adorable set of Gymboree dresses… just the THOUGHT they that thought I was capable of that after seeing other stuff I had made left me in a daze.
When I am sharing with ladies new to sewing I often see their eye's glaze over and the thought 'wow, I could never do that' going through head but guess what?  We all start somewhere ;).
#whyisew

With that I ask, why do YOU sew?
What about YOUR story?  We would love to hear it!  Do you have pictures of your first projects?  Share them with us over at our Linky Party!
6.22.14 | Sewing Mama RaeAnna | Simple Simon and Co. |
6.23.14 | Boy Oh Boy Oh Boy | Nimble Phish | Sprouting Jube Jube | Paisley Roots | Made For Mermaids | Glitter and Wit | Peek-a-Boo Pattern Shop | Rae Gun Ramblings |
6.24.14 | Shaffer Sisters | Sew Like My Mom | Bebe Lambs | EYMM |
6.25.14 | The Sewing Geek | GYCT | Lulu and Celeste |
6.26.14 | Ruby and Jack Patterns | Muse of the Morning | Fishsticks Designs | Little Kids Grow |
6.27.14 | Make it Handmade | Rebel and Malice | Ali Cat & Co. |