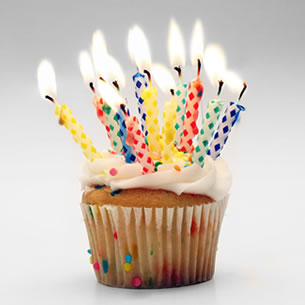 Today marks this blog's 4th birthday :).  As crazy as it seems 4 years ago today I started out with my first post, a small idea & no idea what it would turn into!  Each year traffic growing… 130,318 hits the first year, 505,064 the next & 703,136 last year.  And how about this year well it looks like we will be hitting the 1,000,000 post in 2011 today!!! How awesome is that?  In the last 4 years there have been over 2,340,000 views??? And almost half of them this year alone.
I started blogging simply as a way to easily share my crafty projects with the multiple forums and groups I belong to as well as friends & family.  Then I started adding things here & there and next thing you know I have 450+ people that actually subscribe via email alone to read what I have to say and at least 60+ using wordpress blog reader & many more using other blog readers!  I have to thank all my readers… if you hadn't been here to read, leave comments & ask questions I would have problem flaked out like I did on my private family blog.  You give me the encouragement to keep on blogging, THANK YOU!!!!
As the years have come & gone I have seen this little project grow… now I look forward to making & doing more with it!  This coming year will be crazy & hectic with lots of changes around our house, but I look forward to sharing them with my readers & hopefully starting to do some even bigger things including drafting my own .pdf patterns to sell online.  I have wanted to do it for a while and it's still in neutral, so we will see where it goes, but that process should bring about LOTS of sewing to share with my readers.  I know I said this last year 😉 but having another baby in the house after almost 4 years through me through a bit of a loop.  So here I go again and this time I will succeed!
I hope your Christmas or other holidays went well and have a safe & happy New Year everyone!