And sorry, but it's not homemade!  We have been debating on a big gift for the twins.  I have money for the twins sale… so it was just a matter of WHAT.  Honestly their isn't a huge selection of toys for their age besides dolls, kitchens/house stuff, & dress-up! They recently were gifted a bunch of play food and have the stove & sink that go with their Hasbro Playskool Dream Town Rose Petal Cottage. This has worked okay for now… but when they don't want to share the stove they can pick it up & run off with it!
Anyways after seeing the KidKraft® Grand Gourmet Corner Kitchen in Costco's black friday coupon book and showing it to B we decided that we should get a big durable one they can all use.  Right now that one which is normally $199 at costco & $225-$250 else where has a $30 off coupon… which prices it at $169.99 with shipping.  A good value & VERY tempting… but I just couldn't get past a few things.  Though this set is new & doesn't have reviews their most popular one has a lot… and most of the complaints are due to the doors coming off & the boards breaking… after reading many of these the thought of fighting twins with those doors was bringing not so pretty pictures to mind! Also even though it is SUPER cute, Zander likes to play with them too (and the twins like to play with his tool bench too!) & I was hoping for something a little more gender.  I can also sell a gender neutral kitchen for more at the twins club sale when we no longer need it.  So off a searching I went!
When it comes to larger kids toys I have 2 favorites… Little Tikes & Step 2.  They don't generally disappoint & their stuff is built to last!  The kitchens that I had 20 years ago when I was a kid can still be found in pretty decent shape.  Anyways I searched their sites & wasn't to happy with the colors/styles that Little Tikes had, & none of their sets seemed big enough for 2 or 3 kids.
So then I went looking at Step 2.  I LOVE how stylish & realistic their sets look!  And they have such a variety including 4 sets that are great for 2+ kids!  I have seen the Step 2 LifeStyle™ Grand Walk-In Kitchen before, I love the concept, but it is pricey & LARGE.  Even if I wanted to spend that much money I don't have the room for it.  Not only does it take up a good amount of floor space just assembled, but it is designed to be pulled away from the walls so they can play all around it.  Plus all the cooking area is crapped… it just has lots of counters.  So I kept looking!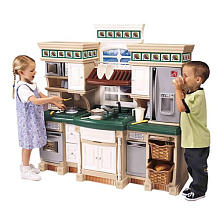 So finally I stubble across the Step2 Lifestyle Deluxe Kitchen.  It was still pricey for my taste, but we have a history, and I know that if I buy one I most likely will never have to buy another one!  It has everything I was looking for in a kitchen.  Though I love the look of the wood sets, the reviews just scare me a little.  I know that the kids will love it & that it can stand up to the rath of fighting 2 yr old twin girls!
Product Description
This incredible play kitchen from Step2 looks and sounds just like a real kitchen. Featuring modern details and fun colors, the set has a granite-style counter top, crown molding, paneled cabinet doors and a framed window with working overhead light. The faux-stainless steel appliances make realistic cooking sounds, and the play sink has a pullout sprayer. Includes an electronic cordless telephone, 28-pc. accessory set and plenty of storage. Constructed of durable plastic. 48-1/2Hx49Wx18-1/2D".
Being the shopper that I am I wasn't going to pay full price, so I started shopping around!  I did find it a few places for $10 less but most of them you have $$ shipping.  I searched for discount codes & sales and came out with what I feel is a good deal.  First off I LOVE Ebates because I can get cash back at 1200+ stores.  Plus during the holidays many offer double cash back so you can get 1-25% cash back at tons of popular stores!  I also always google for coupon codes.  One of my favorite sites due to their lack of major spam around every corner is www.retailmenot.com.
Anyways Toys'r'us was the winning store after searching around.  They participate in Ebates with 1-2% cash back (they are one of the lowest ones but it's still cash back, right?).  Plus I found a $15 off $100 working discount code, they were offering free shipping up to $25 (so I paid $2 for the shipping).
Anyways the total was $229.99-$15 (discount code)+$27 (S&H)-$25(free shipping credit)+18.49(tax) = $235.48 -$10 (gift card I got) = $225.48 today.  THEN I get a $5 coupon /gc (which I have plans for) through the 'r' us rewards program & $ 4.30 cash back through Ebates.  So when it is all said & done I will have paid $216.18 for a kitchen set that retails for anywhere between $219-$277!
Now most of my major holiday shopping is DONE! 🙂
If your looking for a good deal & don't need such a large kitchen set Wal-mart has a GREAT deal on a Step2 LifeStyle Custom Kitchen and Play Food Set. It's online only, but has free site to store shipping.  Anyways not only do you get the LifeStyle kitchen set that is normally $99.88, but you get the bonus 101 play food set that retails for $24.95!  That's a  $124.83 value for $79.00.  But hurry, the site to store can take a few weeks!  ALSO don't forget to use Ebates, walmart purchases earn 1% cash back everyday, but they are participating in the 'November Double Cash Back Deals' so for the next 9 days you get 2% cash back instead!