These are pillow case style dresses with one single ribbon running through the neck & tied on one side instead of 2 with ties on each shoulder.  Really simple I know, but I needing something quick & easy to get me back into the swing of things.  I have made them like this in the past, but this is the first time I have used any of my good fabric.  These are both from Sandi Henderson's Farmers Market line (which I LOVE by the way!).
So the story behind this is I finished 1 dress last night & got half done with the other.  So this morning I put on my new infinity dress that I made & decided to try Carlie's finished dress on her.  So I get it on her & she runs off to play.  About 30 minutes later Baylie realizes that I have a dress on like Carlie… she says 'I pretty, I want pretties too!'  she isn't even 2 yet so hearing sentences is cute as it is, but she just melted my heart!  So I went to finish her dress up.  It would have only taken about 10 minutes but then the Baylie drama started to play out & I had to being her into the sewing room to show her that I was making it still.  That being said she went nuts when it was finished!
Not great pictures but neither of the girls were really in the mood for modeling this afternoon!
Baylie Ann
Carlie Paige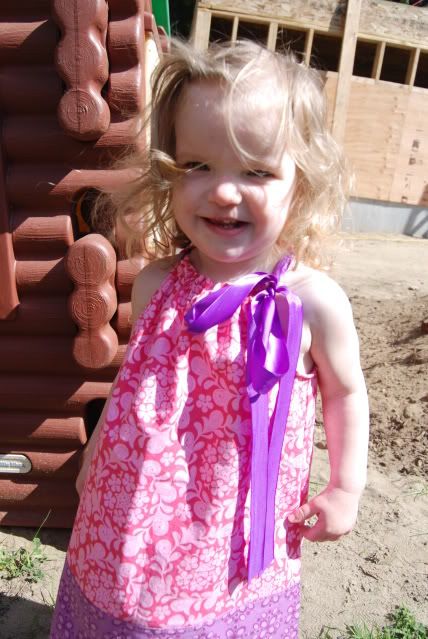 Later that afternoon when we came in the house & I took their 'pretties' off  and the most awesome big brother ever decided that he would let sisters play tunnel, which by the way is AWESOME to watch because he is only a few inches taller then them.  They were all so happy, getting along & just had a blast!!!  It made my heart melt.