It seems like every time I start to clean my sewing room & want to sew SOMETHING comes up.  I started the SM stash game… that went really far this time… I think I had 16 points or so vs the over 1000pts I had last winter.
Well when I got prego with the twins I joined the local twins club SNOMOMS (just north of Seattle, WA).  One of the best benefits is that I get to participate in the club sale that is open to the public.  It is a GREAT way to get rid of all the stuff my kiddos have outgrown.  It's only 3.5 hrs and people line up way before it starts but I have gotten some great deals as a shopper even before I had twins.  Plus I get to keep a percentage of what I sell & I can use it to get them new stuff & buy fabric to make them stuff :).
If you are near the Seattle area it is totally worth checking out if you have young kiddos!  It's this Saturday March 7th from 8:30am-12pm only.  The details can be found on the sale page of the club website www.snomoms.org/sale.
Well the twins have outgrown 3 sizes since the last spring sale & Zander has out grown 1 so I have a LOT of stuff to get rid of.  Last sale I sold everything but 1 big tub of clothes & I brought a LOT.  Anyways for the last week I have been dreaming about sewing but instead I have started my spring cleaning SNOMOMS style… this always seems to get me into the mood to get the rest of the house done… & since my sewing room is next on the list I am excited.
Anyways did you know that you can stack clothes ON HANGERS twice as high as a comforter bag & still get it zipped?  I have found they are great for transporting everything.  I was so proud I had to share some pictures!
Starting to sort…

Mid-stuffing (hadn't occurred to take a before picture until partially zipped)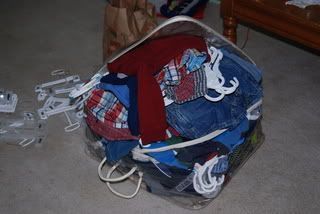 A few sitting on's & careful zipping & ready to go!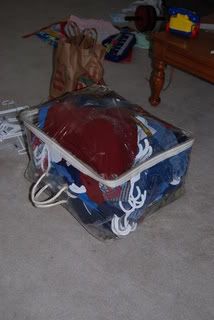 Almost a years worth of clothes (girls 0-3m to 18m & Zanders 2t & some 3t) bedding & baby gear waiting to be loaded into the van… this doesn't include the 5 boxes of toys waiting in the carport.  It is going to be so nice to get all this STUFF out of the house!   (yes I know I still have Christmas stuff out, I need to find the tub of boxes & tear the paper off the picture!)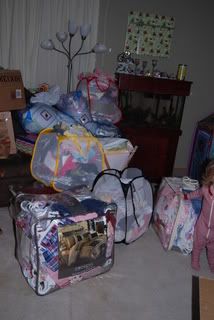 Off to finish pricing some stuff so I can start packing the Suburban!