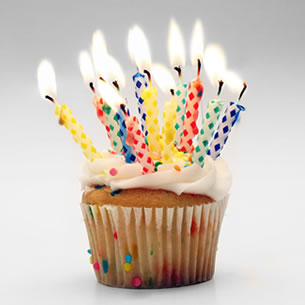 That's right, today is officially 1 year since my very first blog post. If you had told me then that from a year from now I would have 113 posts with lists to hundreds of tutorials, 128,00 blog hits now averaging 1000+ a day & 6000+ a week I would probably have laughed at you.  The first month (Jan '08)  I had 1,300 hits mostly from friends, family & forum buddies; and this month I have had 29,500 & there are still a few days left!  It is just mind blowing.
I started blogging simply as a way to easily share my crafty projects with the multiple forums and groups I belong to as well as friends & family.  Then I started adding things here & there and next thing you know I have people that actually subscribe to read what I have to say!
I have to thank all my readers… if you hadn't been here to read, leave comments & ask questions I would have problem flaked out like I did on my private family blog.  You give me the encouragement to keep on blogging, THANK YOU!!!!
I know that it has been a while since I have posted… we got snowed in & ended up with a white Christmas which doesn't happen in the Seattle area.  Anyways Christmas was great & I promise to blog about all of it soon but first I need to get my house back under control!
I hope your Christmas or other Holidays went well and have a safe & happy New Year everyone!