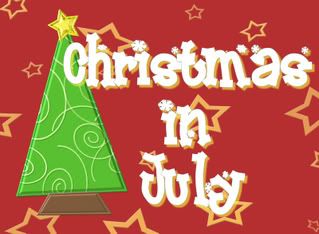 I know that this may make some of you sick, but yes there is less then 6 months 'til Christmas & the holiday season & I am already thinking about gifts!  I have always put a lot of thought into gifts & never worried about 'spending enough' on people.  Seriously its the thought that counts, and its definitely not just about presents.  Anyways I have always started finding stuff here & there on sale in the summer because I have a large family.  But this year I am gonna aim that all non-santa gifts are made by me… or at least that's my plan 😛 While the kiddos are young & believe in santa I am gonna hold back on the mama made santa gifts.
SO I have decided to drag my blog readers with as I celebrate Christmas in July!  I know that this is a complaint I see on forums & blogs often… I had big plans BUT…  The biggest problem is most people (I am EXTREMELY guilty of this) wait until after Thanksgiving to really get to it & there just isn't enough time!  So bare with me & my crazy holiday excitement & see if I can help you out too!
Through out the months I will be posting tasks, activities & project ideas.  At the end of the month I will put all ideas & links to tutorials in my final post.
If you have any tutorial or free pattern links you would like to share email me & I can share them on the big list of great gift ideas!