UPDATE:  We just had a big sale a few weeks prior so I know many of our EYMM fans didn't have many patterns left on their wishlist, but that being said we still raised $254.13 for Feeding America so I rounded up and donated $260 to the cause.  All the designers together raised OVER $30,000 for various Hurricane Harvey Relief funds!
This inital day of 8/31 was a huge success but many people were bummed because payday for so many is Friday 9/1 SO a handful of designers, including EYMM, have extended their event to include ONE MORE DAY!  PLEASE visit their websites if they aren't in the graphic above to see if they extended it or not.  I have left my complete original list for designers you participated as a whole.  If you check out the Facebook groups there are many others who have been posting as well.
As I have been watching some of my closest childhood friends in Texas using their skills to help rescue many of the stranded victims I have been researching which charities have the biggest impact and thinking about what I can do all the way from Washington state.
Amy of Peek-a-boo Pattern Shop mentioned she was doing a one day sale and donating a portion of the proceeds and wanted to know if other designers wanted to get in on this as well. Of course, many of us jumped at the chance! Be sure to read to the bottom to see the complete list of other pattern companies also contributing to the Harvey Relief today.
Today (Thursday, August 31st) Friday Sept. 1st, 2017 Everything Your Mama Made & More! will be donating 75% of ALL SALES to Feeding America. PLUS, use the code TEXASSTRONG at check out for 20% off your entire order.
EYMM chose to donate to Feeding America, earmarking the donation funds for the victims of Hurrican Harvey. We chose this charity after Tami from Love Notions recommended it because of their high rating, the large number of people outside just the Houston metro area that they can help, and their past track record during similar disasters.
They collected over 33 million pounds of food specifically for Hurricane Katrina back in 2005 and 98.5% of donated funds go directly to their programs with only .3% going to administrative expenses. Every $1 donated equals 11 meals!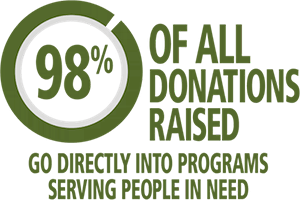 That is a HUGE deal to us, and means that many of the EYMM patterns can provide nearly 84 meals!  Tomorrow evening we will post a total of the amount of money that was raised by EYMM fans!


Want to donate more?  You can go directly to Feeding America and make your own donation for those affected by Hurricane Harvey.
Here is a list of the other pattern companies also donating a portion of their sales today. See each company's page for info on what they're doing.