With Black Friday here, Cyber Monday on it's way as well as the rest of the holiday shopping season I wanted to share one of my favorite ways to save while shopping online in my pj's!  I am going to shop online, and I am going to order from certain sites anyways, so why not earn a little more cash back while I am at it?  I have belonged to Ebates since 2007 I believe, I didn't use it much at first but I have now earned over $1000 in cash back from stuff I was buying online anyway!  They are a legit marketing site that works with online stores.  You can choose a paper check or cash back via PayPal and I have never had any security issues because of their site.
My Big Fat Ebates check from my summer purchases arrived a few weeks ago.  It's not anything extreme but almost $60 more then I had in my bank account before it arrived!  Last year I got over $25 back from my holiday purchases from JoAnn's alone, with my check totaling $104.28 for Oct. 1st- Dec. 31 purchases.  I don't use it a ton during the rest of the year but really it helps this time of year.

Let's face it, no matter how crafty you are or how much extra time you have most of us still buy at least some retail items for holiday gifts or definitely some supplies!  Just as I like to consider myself a savvy crafter I would consider myself quite a savvy shopper as well and thought I would share one of my favorite money savers!
This year the Black Friday ads in store did not impress me, and I have no desire to go shopping on Thanksgiving day anyway!    In the last few days, between holiday gifts and craft supplies I have earned $20+ in cash back buying stuff I planned on getting anyways, which was on sale already, without worrying about fighting the store crowds. They have also added a ton more stores including Etsy!  Plus for this weekend only you can earn DOUBLE cash back on over 500 sites.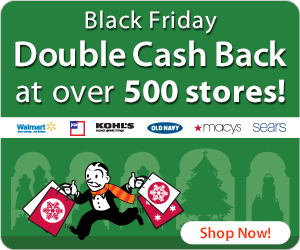 For the cash back I used Ebates which now as 1800+ stores & offers 1-25% cash back on your purchases!
It is totally free & a must have if you shop online!  Honestly I'm bad about using it during the rest of the year or I am sure I would have a bunch more. The best part is you don't have to wait forever for your rewards, you only have to have $5 worth of cash back rewards to redeem and they send out the check once every 3 months & you can get it put directly into your PayPal account or have a check mailed to you which normally arrives with in just a few days!
How does it work you ask? Well its a rewards system for shopping online! If you shop online you should check out
ebates
, its FREE to use, no strings attached!!! It is a program that is free to sign up for. When ever you want to shop online go to their site & click on the stores link… then shop as usual. After submitting your order it takes 2-3 days, but
ebates
will give you CASH back into your account. Then every 3 months they send out Big F
at Checks, & you can even get them put directly into your PayPal account or a check in the mail.
They have over 1800+ online stores now that offer cash back… any where from 1%-25%. Most popular sites like Old Navy, Wal-mart, Childrens Place & Target offer 2-6%. But there are TONS more including sites like Amazon, Expedia, NewEgg, Shutterfly, Apple iTunes, Drugstore.com, Overstock, Home Depot & much, much more!  For all those craft lovers they also have 2% or more cash back on Fabric.com, Etsy, JoAnns, Hancocks as well as tons of other arts & crafts sites!
If you are going to be shopping online anyways you might as well be getting free money right? There are NO strings attached to this. The best part… you get $5 just for signing up (right now you get a bonus $5, so $10 total for a limited time!) no matter how much you spend (but you do have to earn $5 worth of cash back to get the additional $5 sign-up bonus cashed out).
They also offer referral rewards, if you get a friend to sign up and make a qualifying order you earn $5 too!  Yes this is a referral link BUT I would recommend it whether you click on my link or not ;).  I use it all the time including a few hours so why wait? Heck it's at least worth checking out right? To Check Out Ebates Click Here.